A Quick Guide to Identifying Higher End Brands
Looking to up your game in the resale industry?  Check out our guide below to identifying higher-end brands that can be sold online as another stream of revenue.
What to look for:
Quality

How does it feel? If it feels like sturdy quality fabric, it might be a high-end item.
Check the fabric content. In general, items of value will choose cotton, linen, etc over polyester.

Brand Names

Don't markup big box store brands (like Forever 21, Charlotte Russe, H&M, etc.). These items you can usually purchase new for cheap in the clearance section of the store so it's unlikely that a customer will be willing to pay more than the unit prices.
Not knowing your brands is a real barrier to successfully pricing up, but learning the brands takes time. . Anthropologie, for example, is a popular store among women 18-45 but it  carries over 300 brands.  A majority of the items are expensive but because the chain has so many brands, it's hard to quickly identify which ones come from that store.
Look up names on eBay and other reselling websites. On eBay, filter your results to only show the "sold" listings as a way to see what price you could sell your item for.
Get familiar with obvious high-end mainstream brands, like Gucci, Chanel, etc., and also brands found at Anthropologie, Nordstrom, and other indie shops. Check out their websites to learn their brand lists.

Style

Just because it's a designer brand, doesn't mean it's worth a lot. Check the style and see if it fits in with recent popular styles or vintage.  That's not to say a blouse from 2007 Gucci isn't worth listing, but a mid-level high-end brand – like anything from Bebe from 2006, isn't worth the time to list.
Embroidered shirts and dresses are a popular style right now. It doesn't hurt to list a few items that fit current trends if the brand is only mid-level – people will still buy it.

Item type

Consider what category of items to resell. For example, pants are hard to sell.  It doesn't matter the brand – they just don't move quickly.  Shirts and dresses for women's clothing move fast on the other hand.
Accessories are often forgotten but they can be a great profit generator. Be sure to check the labels on ties.  We recently found and listed a Burberry tie and sold it for $50.
Below are some examples of brands and styles worth listing.
Pictured in the grid is an Eileen Fisher sweatshirt, Anthropologie blouse, MaxMara dress, and a Kate Spade purse.  These can be listed for prices well above traditional thrift store amounts.

Below are some items that are popular high-end brands but the style is too outdated or damaged to be worth reselling.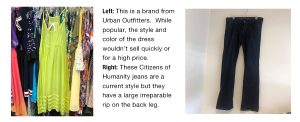 Commonly missed brands with their logos: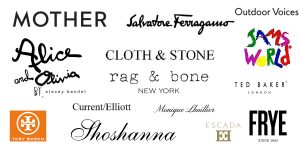 Helpful Links