Technique Tuesday: Creative ways to display items
This week we're focusing on ways to sell products in your stores if you happen to be lacking the usual equipment for hanging or displaying items.  At Finger Lakes Reuse in Ithaca, NY, they've been using old closet doors as racks to hang clothing.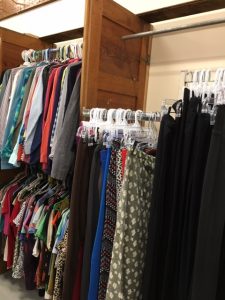 While you don't have to specifically use closet doors, it's good to think about what kind of donations you're getting and how you could incorporate them into a usable display.  This saves you money, makes your merchandising standout as it's an innovative use of a common product, and it gives customers an idea on what kind of project they could use these products for!
Another way to better utilize items that have been donated is to display them in fitting rooms.  The example here is a chair that Finger Lakes received and then placed in the dressing rooms.  Decorating the dressing rooms with items that come in attract the interest of customers and also bring the dressing room to life.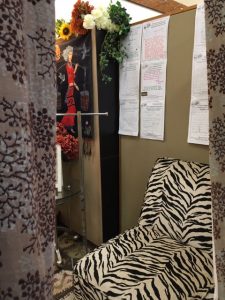 Donated chairs can be used as places for customers to place their belongings while they try on items.
Finger Lakes has found the items they display in the dressing rooms sell rather quickly.  This is a great technique to boost sales.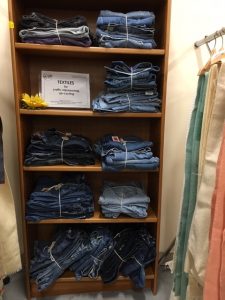 The last suggestion for utilizing donations is to be creative with how an item can be sold.  In this example, Finger Lakes has repackaged damaged denim jeans with twine to be sold as scraps.  Note their placement on a donated bookshelf? Bookshelves can be great ways to display items other than books!