One Good Thing – Member Visit from TAP Into Hope
This week for One Good Thing, we are focusing on a recent visit from John, the online book program manager at TAP into Hope in Roanoke, VA.  Over the last few days this week, John has been shadowing some key staff to learn best practices running online books ahead of their program going live.  We are always excited to share our processes with other Cascade Alliance members, and learn more about their systems.
John was here to shadow and learn more about our online book sales operations so he could replicate the process when he returned to TAP.  He had the opportunity to be hands on with the packaging, trouble shooting, uploading & more. While his flight was delayed on the way here, that couldn't stop him from the enormous amount of information and hands on experiences he obtained while here!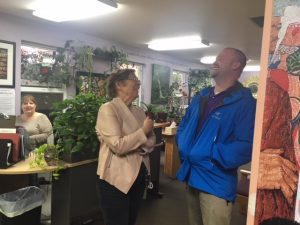 On the last day as we went to drop him off at his hotel, he commented on the fact that although he had come expecting to learn new stuff, he was surprised to take away even more than he had expected.
We were able to show a small scope of the work St. Vinnie's does with tours to our family shelter, affordable housing complexes, day center for homeless adults, car lot and much more.  Thank you for taking the time to come all the way to Eugene, John!