One Good Thing – Recent Conferences for Cascade Alliance
This week we are focusing on the conferences our Economic Development Director, Susan Palmer, recently spoke at.  These conferences focused on reuse of materials that would otherwise be headed towards the landfill, and ways of recycling waste. We were excited to both share some of our strategies that have proven effective as well as learn new things.
Below is a reflection from Susan:
"Meeting people doing inspiring work around the country is one of the reasons we go to conferences, and we got a double dose of that in the past two weeks, first at Reuse Conex in Cinncinati, where we were knocked out by the creativity of the reuse community. Who'd have thought gun barrels could be made into flutes?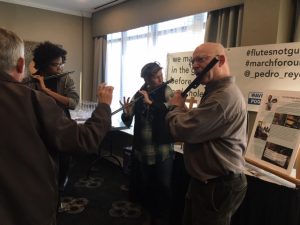 Thanks to MaryEllen Etienne for putting together a great program. Next, we went to St. Louis to the Resource Recycling conference to share how reuse can make a real difference in waste diversion and the development of zero waste strategies. Their reuse consultant David Bennink shared the important work of salvaging buildings to keep everything from two-by-fours to sinks in circulation longer.
We came home inspired to do our part in contributing to a more sustainable community.
From a job-creation perspective reuse and recycling win out over landfilling: Reuse and recycling created 9 times more jobs than landfilling and incinerating."
Thank you for your insight, Susan!  We look forward to featuring the positivity happening within our organization and with our members!