One Good Thing – Searching for Rare Books
This week for One Good Thing we're highlighting TAP into Hope!  We wanted to share the example of how teamwork is a key factor in an organization's success – specifically with this story surrounding rare books.
We recently put out a call to our members for them to double check the donated books they're receiving for the book called "Night of Camp David," by Fletcher Knebel.  This is a rarer book that's hard to find.  It recently gained popularity in the last few months from a handful of political experts talking about the book.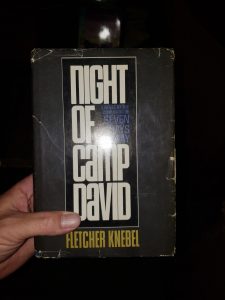 The description below about the book was pulled from a New York Times article that was published recently:
"The novel, "Night of Camp David," features an unhinged American president who falls prey to his own paranoia and conspiratorial fantasies, as people around him struggle to rein in his worst impulses. (A critic called the book "too plausible for comfort" in a review published in The New York Times in 1965 — the same year that Congress passed the 25th Amendment, which provides a mechanism for removing a president who is deemed unfit to serve.)"
The rise in popularity is due to some readers finding a parallel between the book written over 50 years ago and the current president.  Regardless of political views, we realized that this book was quite popular and older versions of the book were selling for high prices – so we encouraged our members to be on the lookout for this book after it was found in the donations at one of our locations.
Congratulations to TAP for using teamwork to sort through donations and find this rarer book and good luck to everyone else on the treasure hunt!