Fostering Motivation in the Workplace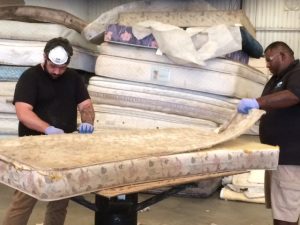 Looking to build and reinforce motivation in your workplace?  That can be challenging for employees engaged in repetitive tasks  When the work itself isn't stimulating, we rely on other motivational tools, both financial and social.
In our mattress recycling facilities, for examples, our teams who deconstruct the mattresses get a financial bonus when they exceed our minimum daily quota.  While money is a great motivator, it doesn't have to be the only place of motivation in the workplace.
Other ways to motivate and inspire staff who are doing repetitive tasks:
Food based incentives for meeting a big goal – a post-work pizza party, for example.
We also cross-train employees so they can work on different tasks to help keep the work day interesting.
Invite staff input in processing or other work-place decisions. People whose input into how work can be accomplished more effectively remain more engaged.
Create an exciting environment – this could be as simple as having music on as long as it doesn't distract from the tasks at hand.
Ensuring staff take their allowed breaks also gives them a chance to recharge.
For more on workplace motivation, check these out:
https://www.flexjobs.com/employer-blog/keep-employees-bored-at-work/
https://smallbusiness.chron.com/motivate-employees-work-routine-repetitive-jobs-23644.html