Technique Tuesday: How to Overcome Dips in Sales
Has your business recently hit a low month in sales?  Do those low numbers keep you up at night?  Occasionally our stores will have a dip in sales. Sometimes it's because of something we did or failed to do. Other times, outside influences like bad weather drive down revenue. A case in point: This year's federal tax refunds are lower than previous years, thanks to changes in with holding. Regardless of the reason for these occasional dips, good news is, these numbers don't always have to take up unwanted space in your mind. There's always something you can do.
Tips for drawing in customers:
Sidewalk sales

Setting out racks of discounted clothing is a great way to draw attention to your store. Potential customers tend to browse the clearance racks and then venture inside to see what else there is.

Holiday sales

We don't usually do a President's Day sale, but we did this year, offering 50 percent off books and clothing over three days. We don't advertise until the day of the sale.

Don't forget social media
Getting your shop in front of a lot of different eyes. Use Facebook, Craigslist, Offerup, etc. to get products in front of new buyers.
Putting balloons out even with no sale

The visual of the balloons can draw people in, even if there's no big sale. These are a low-cost option to attract customers.

Creative displays

One thing we've done recently, is launch an Instagram for our store. We've created home displays (as seen in the image below) in our rare book room to give customers ideas of what they can do with the items in their own home.  Pictures of the display are posted on social media to draw people in to look at that display, and to see other items they might not normally look at – such as rare books.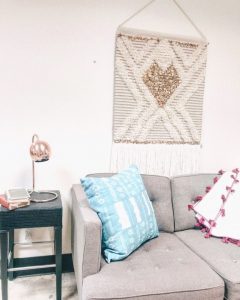 To our readers:  Do you have your own suggestions for generating income?  Send us your suggestions on our Facebook page!