One Good Thing: Mustard Seed of Central Florida Visit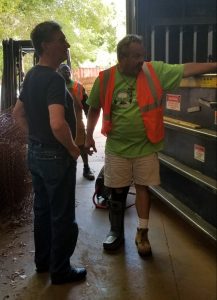 Recently, Cascade Alliance headed down to Florida for the Sustainatopia Conference (you can read more about that in our previous blog post) and a visit with our member The Mustard Seed of Central Florida.  We had an excellent visit with our friends at Mustard Seed!
The Mustard Seed of Central Florida is a furniture and clothing bank, the only one of its kind in Central Florida.  They also have recycled mattresses since 2011, a venture that has been gaining national interest the last few years.  We spent Tuesday collaborating and working alongside them, below are some of the highlights from our time there!
We had some mutual equipment excitement! We shared information about our metal baler and were delighted to learn about equipment they are using. We feel strongly about recycling as much of the material as possible when working with mattresses, so we were excited to learn about a wood compactor they are using. We are working toward seeing how to incorporate that process in our facilities after seeing the success there.
Following the shop talk, we got into the nitty gritty details of thrift: product flow, cell phone policies, cash handling procedures and more.
It was great to spend time with our members and help continue working alongside them to create a greener community.