One Good Thing: Terry McDonald Heads to DC to Speak at the US Chamber of Commerce Foundation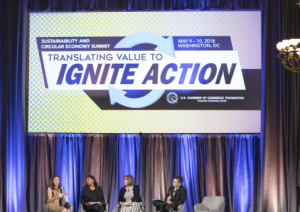 Next week, Terry McDonald will be speaking at the 5th Annual Sustainability and Circular Economy Summit at the US Chamber of Commerce Foundation in Washington D.C.  We always enjoy meeting likeminded individuals and are particularly interested in hearing the Public-Private Beyond 34 session.
Terry will lead a lunchtime discussion that highlights our experience working with businesses, foundations and nonprofits to turn sustainability goals into reality.
While in the area, we will be meeting with our state representatives to discuss homeless youth, housing and economic opportunities for our community. We will also have a chance to connect with some nonprofits who are interested in learning more about our national network, the Cascade Alliance.
We look forward to hearing from other leaders in our industry, learning about the newest sustainability trends, and sharing the Cascade Alliance story with others.