One Good Thing:  Youth Take Action with Climate Strike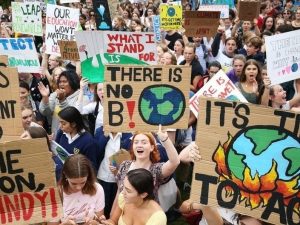 For the last week, youth and young people have been taking action with Fridays for Future and kicking it off with the Global Climate Strike.  Our earth is headed for several tipping points if our actions, and the actions of large companies, don't change by 2030.   We're highlighting this in our One Good Thing blog because our youth, and our future, have woken up the world and demanded action to create change.  The Executive Director from Big Reuse – one of our Cascade Alliance members, and his son, participated in the Global Climate Strike last week Friday.  There is also a second global climate strike today, September 27th.
The Cascade Alliance, and all of our members are part of the circular economy.  This "circle," helps keep waste out of the landfill and gives these items a new purpose.  From selling books online, to retail thrift stores, to mattress recycling, to diverting furniture discards from big brand companies – all of these items could be sitting in the landfill – but with a circular economy all of these things either get reused, re-purposed into other products, or properly recycled.
While these climate strikes alone won't solve the climate crisis, youth leaders from around the world including Greta Thunberg, Autumn Peltier, Isra Hirsi, Xiuhtexcatl Martinez, and thousands of other youth, have drawn the line in the sand to demand climate justice.
Interested in how you can take action:  Click here.