Safety in the Workplace: Tips from Cascade Alliance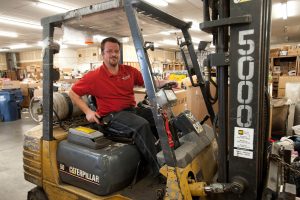 Here at St. Vinnie's, we make safety a priority for everyone. We bring up a safety related topic every two weeks at meetings all store staff attend, have regular safety inspections, and we've created an anonymous reporting tool to encourage employees to let management know about any safety concerns.
However, even with the proactive measures we take, we still have preventable incidents. A few months ago, we had a new forklift driver make a mistake; thankfully she was okay, but the forklift did not fare as well. She had been taking a bin out to the dumpster and did not lower the fork tines which caused her to tip over.  We've also had an inexperienced driver pull away from the dock while a forklift was still in the back of the truck.
Below are some tips for forklift safety:
Train the operator
Load and unload correctly

Set the brakes and put wheel blocks on trucks, trailers or railroad cars to keep them from moving.
Secure dockboards or bridgeplates before you drive over them

Learn the rules for batteries and fuel tanks

Always turn off the engine when filling fuel tanks
If you spill fuel, clean it up immediately

Make routine checks

Complete a daily operator's checklist prior to operation

Drive safely

Use a seatbelt if the truck is equipped with them
Keep at least three truck lengths between you and the truck ahead
Don't run over loose objects on the road

Don't leave a truck attended

A truck is considered unattended when the operator is 25ft or more away from the vehicle.
Make sure the load engaging means is fully lowered if you leave your truck

Keep up with repairs and maintenance

If the truck needs repair, is defective or is unsafe in any way, immediately take the truck out of service until it's fixed

Watch out for pedestrians

Never drive a truck up to a person standing in front of a bench or other stationary objects.
Don't let unauthorized persons ride on powered industrial trucks

Watch out for ramps

When ascending or descending grades in excess of 10%, drive with the load facing upgrade. On all upgrades, tilt back the load.

Keep it clean

Keep industrial trucks clean and free of dirt, oil, and grease. Use only noncombustible agents to clean trucks
We hope these tips help to keep your workplace safe.