Store Marketing: The Importance of the First 15 ft of a Store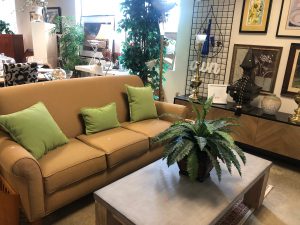 What are some of the first things you notice when you walk into a store?  Lighting?  Displays?  Customer service?  Good first impressions are key to gaining customers and making sales.
If you're struggling with ideas on how to transform the entrance of your store, just think about the elements of a store that you like to see when you first enter.  Below are some tips to creating a welcoming and successful store entrance.
Tips:
Have good lighting.
Make sure customers are greeted as soon as they walk in
Great displays

If you're selling furniture, consider creating living room sets so customers get an idea of what they could do with the furniture in their own home. Last winter we set up a Christmas tree display complete with decorations and the whole thing sold within the hour.
Take into consideration that even the best display will become stagnant if it isn't changed.  Rotate or switch out displays every few weeks and be sure to include a variety of products so customers know what's available.
Have mannequins in the entrance wearing items that fit the current trend and season – you never know if someone will buy the entire outfit off the display!

Cleanliness

Seeing a mess can be off-putting to potential customers. Make sure the register areas
in the front are organized.  Utilize storage systems – these don't have to be expensive!  You can use clearly labeled cardboard boxes to store hangers and other items beneath the register instead of on the counter.
Full clothing racks

Make sure the racks are fully stocked with items. Racks in the front should be nice and neat.
One thing St. Vinnie's does is create a "front porch" type area in the outside front of the store.  This is where you could display outdoor items, more furniture, and yard equipment.  It's a great way to maximize the space you have and it attracts the attention of potential customers!