Technique Tuesday: Looking under the sofa cushions for a little extra cash!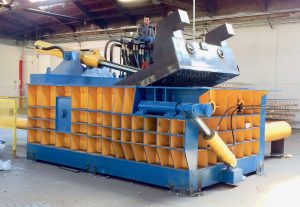 Cascade Alliance members engaged in mattress recycling (yes, I'm talking about you UTEC, Mustard Seed and Greater Bridgeport Community Enterprises Green Team!) have been successful finding regional government grant funding for the equipment needed to process and bale mattresses. Places to look for those kinds of opportunities are often highlighted in recycling publications, like Resource Recycling, which posted this list of opportunities recently. While heavy equipment, like the metal baler we use in our Stockton mattress recycling facility, (shown in the photo to the left) is the kind of thing that often gets funded, a look at the list shows some states are interested in funding innovative ideas. California's Department of Resources Recycling and Recovery, for example, has invited grant applications that can help manage the clothing and textiles currently gumming up recycling equipment and landfills. And PaintCare, the nonprofit group managing stewardship laws for paint in several states just announced a grant competition for strategies to improve technologies around reusing latex house paint. Don't forget these resources as you look to expand operations.
And government funders aren't the only ones with a vested interest. Coca Cola Foundation last year provided $500,000 to the Southeast Recycling Development Council to launch an infrastructure project.
If you've got suggestions for recent grants or grant searches, share with us!