The Key to Having a Flourishing Book Section in Your Thrift Store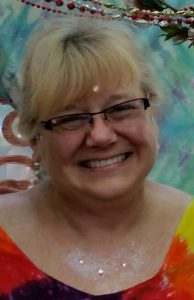 We are excited to be highlighting Susan St. Thomas, the book manager of our St. Vinnie's store in Florence, OR. Our thrift stores are well known for the vast selection of alphabetized and categorized titles.
One of the key factors to having a successful book section is keeping the shelves full, the supply rotated, and the area organized.  Shoppers are more likely to purchase and spend time in the rows of books if they know they can easily find what they're looking for, whereas if it's a struggle to find a certain title, they might give up and leave.
We are fortunate to have her on our team, she is invested in her area and truly enjoys the book department which makes a big difference.
Susan St. Thomas: "Keeping the book department well stocked and organized makes the shoppers happy. And isn't that what it's all about?"
Her shoppers are also happy to have her, here is what one of her shoppers had to say: "Whenever I go to St. Vinnie's in Florence, this extremely cool "librarian", Susan, has the book department looking awesome!  If you can't find it, she will know if they have it, and if they really don't have it, she will watch for it for you!  Customer service, 5 stars!"