The Power of Collaboration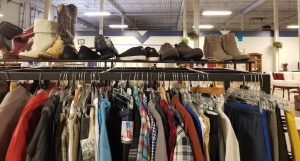 The value of collaboration between nonprofits rests in expanded capacity to respond to community need, maximized waste-diversion, and honing best-practices to generate agency revenue. We are enthusiastic about a project between St. Vincent de Paul of Dayton, Ohio (SVdP Dayton), Cascade Alliance and the Federal Emergency Management Agency (FEMA) that embodies the potential of nonprofit partnerships around the nation.
In response to a series of tornadoes that tore through Dayton end of May, SVdP Dayton pivoted its operations to provide emergency assistance to tornado victims. As they are already intimately familiar with helping their neighbors in need, this was a natural response. Several months in, the agency capacity stretched thin, SVdP and FEMA coordinated with Cascade Alliance to strategize a plan to support its retail thrift operations while staff are diverted to the emergency response. We reached out to our members and were not disappointed: we soon had staff members from nonprofits from New York to Eugene working in rotating weekly shifts to provide support. Already, the clothing section has been reorganized and expanded, a book department expansion in in the planning stages, and the store continues to be stocked with fresh product. We couldn't be more honored to work alongside such dedicated staff. Observing their response to their community members in need is humbling.
Cascade Alliance could not complete a multiple month long project without its members, nor would the detailed planning and feedback that prefaced it be as diverse. A network of waste-based nonprofit partnerships enabled this to come to fruition. Having the variety of skill sets, expertise and hands available has made for an incredible strike team.
Nonprofits often must respond to community need as it arises, leaving agencies with a common problem: how to funnel resources where they are most needed while simultaneously generating the revenue that supports its operations. Waste-based enterprises, such as retail thrift, enable nonprofits to operate with more flexibility. Impending worsening of climate change leaves us with complex economic and human problems in our communities that will follow more frequent natural disasters. Partnerships between nonprofits and government agencies allow us to respond more creatively through the power of shared industry knowledge. As we fight for a more sustainable future, collaboration is crucial.