A Warm Sendoff to Our Very Own Susan Palmer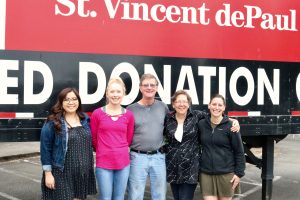 Our Fearless Leader, Susan Palmer, was recently highlighted by on our main agency's page.  We're highlighting Susan because this is her last day with the Cascade Alliance before she retires.  We are sad to see her go but excited to see where life takes her!
Below is the highlight:
Meet Susan!
Susan is the Economic Development Director of Cascade Alliance. When Susan joined the SVdP team she brought her keen observation skills, infectious energy and her enthusiasm, without which there would be no Cascade Alliance.  She embodies St. Vincent de Paul culture; a culture of servant leadership, direct communication and hard work. Her efforts have been instrumental in expanding our national network.
"I have truly enjoyed working with Susan the last 5 years. She has always impressed me with her integrity, quick wit and willingness to work the problem. "- Bethany
Susan has worked for us the past 6 years and is retiring this August. We are sad to see her go, but consider ourselves lucky to have had her pioneer this department.
Thank you so much Susan for all that you have done!