News and Events
Cascade Alliance Featured in Chronicle of Philanthropy Case Study Article 4/27/21
SVdP's Terry McDonald, Cascade Alliance director Bethany Cartledge, Finger Lakes executive director Diane Cohen and Greater Bridgeport Community Enterprises executive director Adrienne Farrar Houël were interviewed by the Chronicle of Philanthropy for a piece about our work to turn discarded materials across the nation into a source of stable revenue for nonprofits. Check out this article to hear more about how we believe our network's growth will allow us manage materials in a way that reduces waste, earn revenue that helps nonprofits remain strong, and create more jobs for people with barriers.
SVdP's Terry McDonald Presenting at CRNS Conference: 'A Fairer Scotland, a Greener World' 10/13/20
Cascade Alliance is so proud of our national footprint as nonprofits working together to make the circular economy a reality. We're ecstatic to announce participation in an international sustainability conference! SVdP Director Terry McDonald will be presenting at Community Resources Network Scotland (CRNS) Annual Conference 2020. Registrations can now be made for the CRNS Conference 'A Fairer Scotland, A Greener World' which is being held digitally next month over two mornings: Tuesday 17th and Wednesday 18th November from 9.15am – 1pm. 
Terry broke internal ground years ago in his quest to scour the waste stream for reusables: SVdP has maintained a long relationship with Scotland-based retailers to sell antique furniture here in Eugene, OR. This relationship has produced conversations surrounding reuse, recycling, sustainability and the circular economy with international partners committed to diverting waste from landfills.
Tune in to hear Terry talk about the power of social enterprises to respond to economic, social and environmental crisis!
Cascade Alliance Members Collaborate to Deliver Materials to Unhoused Oregonians 5/21/20
Cascade Alliance is delighted to announce another instance of materials sharing in our network! While diverting excess goods to regions that need them was primarily a waste-diversion tool in our network before, during a pandemic it is a way to maximize our collective resources.
A truck bearing 79,000 pairs of brand new, high quality socks made its way all the way from Dayton, OH, to St. Vincent de Paul of Lane County (SVdP). The load of Bomba-brand socks were sent from St. Vincent de Paul of Dayton, OH, one of our wonderful Cascade Alliance partners, to distribute to unhoused community members here in Oregon. SVdP is allocating loads of socks to other local nonprofits and community organizations including: White Bird, Square One Village, and Eugene Mission. Socks will go to Eugene and Springfield emergency respite sites currently sheltering unhoused guests during the pandemic, as well as Dawn to Dawn, a 24/7 emergency shelter for adults experiencing homelessness. SVdP's Veterans Housing Program is also excited to distribute these socks to unhoused veterans in our community.
Terry McDonald, Executive Director of Lane County St. Vinnies, remarks "We carry the ethos of connection and support into our relationships with other nonprofits. We were grateful to be able to call on our Ohio partner to share their excess supplies with us in a time of need."
Thank you Dayton St. Vinnies!
Member Success Stories (4/24/20)
Cascade Alliance members have been working diligently to maintain their programs in uncertain times, modifying business practice and services to meet the demands of a "new normal". In that spirit, we want to highlight achievements of two of our members! Greater Bridgeport Community Enterprises was awarded a Paycheck Protection Program forgivable loan! And, Total Action for Progress is on track to make $30,000 this month—a record for the organization. Congratulations!
UPDATE: Emergency Support (3/23/20)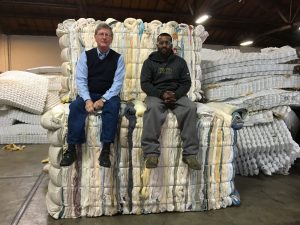 In these unprecedented times, St. Vincent de Paul has stepped forward to extend the necessary life giving services to our community's most vulnerable neighbors. These shelters, social and emergency services, affordable housing and resident support services are funded in large part by our store operations. In line with the mandate from the governor we have closed our stores, immediately curtailing our revenue. We are seeking emergency funding to bridge the gaps in our community as the nation and world grapple with this pandemic.
A thought experiment: What would Eugene look like if it didn't have St. Vincent de Paul Society of Lane County? Here are some answers.
1,400 families with limited incomes would have no place to live because St. Vinnie's didn't build affordable housing.
360 people, many with barriers to employment wouldn't have jobs because St. Vinnies didn't open 15 retail thrift stores, four mattress recycling warehouses, a glass foundry, and an online bookstore.
145 homeless families would have nowhere to go during the day. They wouldn't have a place to do laundry, take showers, cook meals for their families, check email and job applications and get help finding a place to live because St. Vincent de Paul didn't open the First Place Family Center.
256 homeless single adults would not have a warm safe place to sleep at night, because St. Vinnie's didn't Create the Service Center or the Dusk to Dawn Program.
Homeless teenage girls would not have safe transitional housing that allows them to finish school, graduate and go on to college because St. Vinnie's did buy a church, convert it to apartments, and provide ongoing site support to help them succeed.
People in a short-term crisis who just need help with the rent or a utility bill or a bus pass and a clean suit for a job interview would have nowhere to seek help, replacement for their broken glasses or any one of a number of unexpected problems, because the Lindholm Center wasn't there to assist.
30 million pounds of materials that still have value would have wound up in the landfill, because they weren't salvaged for reuse or recycling by St.  Vinnie's
People on extremely limited incomes would have no place to purchase the household materials and clothing that are available in St. Vinnie's stores.
St. Vincent de Paul Society of Lane County gets about half of its operating income from its retail stores. The loss of that income will have repercussions that will put the most vulnerable of our community members at risk.
We humbly ask that you support us as you are able. Here's a link to their online donation site.
https://interland3.donorperfect.net/weblink/weblink.aspx?name=E346840&id=10
UPDATE: Cascade Alliance Conference Cancellation (3/27/20)
Due to ongoing COVID 19 concerns, it is with regret that we announce the cancellation of the Cascade Alliance Collective Impact Conference 2020. The health and safety of our members, communities, and partners is our first priority. Furthermore, as nonprofit organizations dedicated to serving our communities, we feel travel and related expenses would be an undue hardship: we know revenue would be best directed at the vital services our members provide in this time of crisis. We look forward to reassessing in the future. Thank you to all our wonderful partners! Stay well.
UPDATE: Cascade Alliance Conference (3/11/20)
We are actively monitoring COVID 19 updates from CDC and are keeping this in mind regarding our conference. As of right now, we have it set for July still, but are also considering moving it to the fall. It's difficult to project as this is a situation that is rapidly evolving, but we will keep you all posted and welcome feedback.
Date set for 2020 Cascade Alliance Conference! (2/28/20)
We will be holding our fifth Cascade Alliance Conference in Dayton, OH this July 8th-10th! If you would like to be a sponsor review the prospectus here: 2020 Collective Impact Sponsor Prospectus
Cascade Alliance welcomes new members!  (1/24/2020)
This weekend, we want to celebrate three wonderful nonprofits who have recently joined our network: Atlanta Furniture Bank, Clever Octopus, and Indigo Hippo. All run programs that make vital contributions to their respective communities and the environment.
Cascade Alliance to attend National Zero Waste Conference in Berkeley, CA (12/17/2019)
We are delighted to announce St. Vincent de Paul Executive Director, Terry McDonald, will be presenting at the National Zero Waste Conference in March 2020. National Zero Waste Conference, organized by the National Recycling Coalition, is being held in conjunction with the California Zero Waste Week at the UC Berkeley. The conference is a great opportunity to share and learn alongside others in the recycling industry. Check out our latest blog to learn more about the event!
For Immediate Release (8/20/2019) Cascade Alliance White Paper on Growing Retail Thrift Industry
Media Contact:  Laura Bennett, laura.bennett@svdp.us
Cascade Alliance Report Confirms Robust Reuse Industry
Eugene, OR – Trends in the retail thrift show a growing industry that smart nonprofits can continue to employ to meet their job-creation and social service needs.  Research by the Cascade Alliance – a network of nonprofit social enterprises —  reveals nonprofit brick-and-mortar retail thrift will continue to grow and create jobs, even as online sales draws for-profit enterprises and investors.
The Cascade Alliance white paper, – published online on Aug. 9 – found:
Used merchandise stores employ 178,600 staffers as of May 2019, up 3,100 employees just from the year before, with projected employment growth of 32.4 percent from 2016 to 2026, according to the US Department of Labor Statistics.
Research conducted by ThredUp projects secondhand apparel sales will reach $28 billion in 2019 and that combined thrift and resale apparel will almost double in five years to $51 billion.
Evolving consumer interest in sustainability and ethical purchasing, along with an interest in unique and vintage apparel are driving the growth.
The massive popularity of decluttering fueled by organizing guru Marie Kondo is fueling great access to donated quality products.
The Cascade Alliance, founded by the St. Vincent de Paul Society of Lane County, periodically researches and writes reports on the social enterprises its members operate to help the network stay up to date on challenges and opportunities for growth.
"We need to be able to respond to our members when they ask questions about the industry," says St. Vincent de Paul Economic Development Director, Bethany Cartledge
This has been observed in the stores that we operate and through our members as well – although there has been some concern over the growth of online second hand.  However, Second hand shopping is here to stay, online second hand growth is not a threat to growth of brick and mortar stores.
"St. Vincent de Paul has been doing this work for 50 years, we know the thrift industry really well.  It's evident that reuse programs are better for the environment and the economy," says St. Vincent de Paul Executive Director Terry McDonald.
For the Cascade Alliance, a network of nonprofits specializing in reuse and recycling, the growth represents both opportunity and threat.  With an increase of for-profit enterprises heavily investing in reuse sales online and in-store, charities must match both product selection and store ambiance to compete.  Non-profits have an advantage through strong community ties that provide a compelling narrative that appeals to product donors and shoppers who know the overall impact of donating and purchasing from them.
About:  The Cascade Alliance is a national network of affiliated organizations that is tapping into the ever-expanding supply of landfill-headed goods and materials to create and operate waste-based social enterprises that offer a quadruple set of key benefits.  Working together, and guided by Alliance staff, the network moves product to the best location for its eventual productive use, while offering the quadruple benefits to its direct partners as well as contributing to the well-being and economic development of the communities it touches.
You can read the report here:  2019-thrift-store-white-paper final
SVDP Director and Cascade Alliance Director attend US Chamber of Commerce Foundation's Sustainability and Circular Economy Summit (8/15/2019)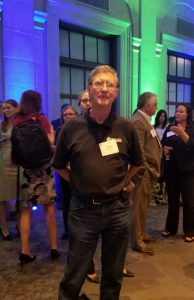 Terry McDonald, SVdP Executive Director, and Cascade Alliance Director, Bethany Cartledge, attended the US Chamber of Commerce Foundation's Sustainability and Circular Economy Summit in Washington D.C.   Terry presented on the real-world discussion of a nonprofit, foundations and businesses working together to turn sustainability goals into reality.  This was one of the best conferences we had attended recently. There was good takeaway from the sessions, a diverse attendee mix, and best of all, we observed and appreciated the change in language in how waste was discussed. While on the East Coast, we had a chance to connect with two of our state representatives to address affordable housing, homeless youth and community resiliency, as well as host an informational meeting at the United Way in Baltimore for several nonprofits and city staff interested in the Cascade Alliance.
Cascade Alliance Director, Susan Palmer Retires (8/2/2019)
Fearless Leader, Susan Palmer, has retired as the Cascade Alliance Director after 6 years of working with us.  When Susan joined the SVdP team, she brought her keen observation skills, infectious energy and her enthusiasm, without which there would be no Cascade Alliance.  She embodies St. Vincent de Paul culture; a culture of servant leadership, direct communication and hard work. Her efforts have been instrumental in expanding our national network.   Bethany Cartledge will take her place as Cascade Alliance Director.
Cascade Alliance Visits Dayton OH (7/10/2019)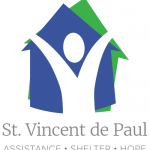 We kicked off the month with a visit to our members at St. Vincent de Paul of Dayton OH.  We spent several days working alongside some of their staff.  Dayton SVdP is leading the local effort to support victims of this spring's destructive tornadoes, which ravaged the region and left thousands without housing.
Cascade Alliance visits Center Pole (6/26/2019)
We started off a productive month visiting a potential new member in Garyowen MT.  Center Pole is a Native nonprofit that serves the Crow Nation and their location is close to the Little Big Horn Battlefield National Monument.
Cascade Alliance Welcomes New Team Member (6/21/2019)
We are pleased to announce that longtime St. Vinnie's staffer Laura Bennett is joining the Cascade Alliance team. Laura managed our book departments for several years before becoming a special projects coordinator.  Laura will be taking over Bethany's role as member liaison as Bethany transitions to Cascade Alliance director.
The Scrap Exchange Welcomes New Executive Director (6/14/2019)
We are pleased to extend a warm welcome to Laura Nicholson, new executive director for our members at the Scrap Exchange! Laura is bringing her experience in non-profit leadership and capacity building through a team-centered approach.
Cascade Hits the Road! May 2019 
We had a busy, productive May working alongside some of our members. We spent some time in Orlando with the Mustard Seed, Spokane with Global Neighborhood,  and Seattle with a prospective member, Seattle ReCreative!
Sustainatopia: Designing & Catalyzing Impact Partnerships (4.29.19)
Terry McDonald and Bethany Cartledge of the Cascade Alliance were privileged to be invited to share at Sustainatopia end of April. It was inspiring meeting so many people committed to the environment, improving waste diversion processes, and interested in collaborations.
2019 Cascade Alliance Convening! (4.10-4.12)
We had an excellent time at our recent gathering! A great time to learn, network and problem solve.
Buffalo Industries and Thrift Books Sponsor Cascade Alliance Convening (3/6/2019)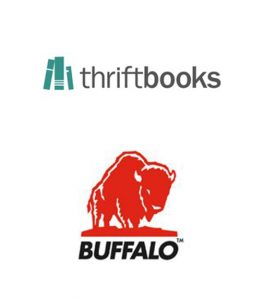 Members of the Cascade Alliance will meet for a convening this April, 2019, in Eugene, OR.  We are excited and thankful to announce that Buffalo Industries will be sponsoring us as an Event Friend and ThriftBooks will be sponsoring one of the lunches.  Thank you to our sponsors for your support!
Terry McDonald Offers His Expertise at Harvard, MIT (3/5/2019)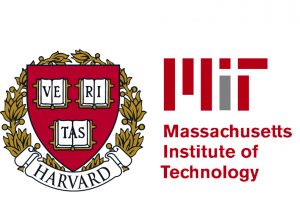 SVdP's Executive Director, Terry McDonald, was part of a panel presentation at Harvard University.  Two of our members, UTEC and Greater Bridgeport Community Enterprises – The Green Team rounded out the panel.
We also got to attend many of the other sessions and be inspired by the work of both for-profit and nonprofit organizations working to make their corner of the world a better place.  We were equally inspired by those who attended our session on using a for-profit mindset to help meet our goals. The mix of nonprofit representatives, funders and students at our session was great.
Terry was also invited to MIT that weekend to talk with students in the school's entrepreneurship program and also those studying nonprofit management.  This was highlighted in a local news story which you can read here.
The Robert Wood Johnson Foundation Releases a Case Study on the Cascade Alliance (1/10/2019)
The objective of the study of the Cascade Alliance was to assess and exemplify the successful business model at SVdP and how it was replicated with the creation of the Cascade Alliance, their vision for the future and how they will carry out that vision.
One statement within the study brings up the issue of the waste stream and how we have been using the opportunity of that to continue building upon.
"The endless supply of waste in this country, Gootman said, offers "a huge business opportunity that could bring some of the change that everyone sees is needed," and she noted "the tremendous potential there for a national network to help deal with waste." SVdP has worked out "how to take a large volume and figure out different channels for disposition." The next step, she believes, is testing whether this can be replicated through the Cascade Alliance." – Page 49 – New Life for Product Waste
You can read the rest of the case study by clicking here.
Cascade Alliance Network in Action (12/6/2018)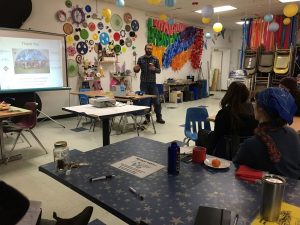 Our Cascade Alliance director, Susan Palmer and Chris Pletcher, the deputy director from Finger Lakes Reuse, visited our members over at the Scrap Exchange in Durham, NC during December.  Chris was able to help the store develop a square footage plan and the Scrap staff had a chance to ask questions and learn from him.  Chris also stayed a few extra days to learn from Scrap Staff about creative reuse.  It's great to see  collaboration enabling our members to learn from each other, lead workshops and share data.
Cascade Alliance Welcomes Multiple Members to Eugene for Training (11/30/2018)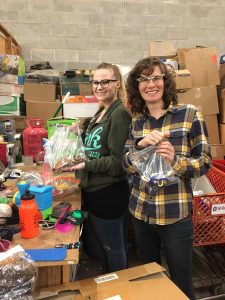 Multiple Cascade Alliance members flocked to Eugene in November 2018 to participate in training.  Representatives from groups such as TAP into Hope and Opportunity House were welcomed to Eugene with site visits to the shelters, stores, donation centers and much more that St. Vincent de Paul Society of Lane County runs.  They were able to work alongside some of our staff in the online book department and other areas to learn about certain operations and bring that information back to their organization.
Newest Partners with Product Stewardship Institute (10/12/2018)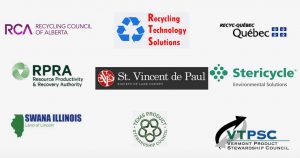 We are proud to announce that we are new sustaining members of the Product Stewardship Institute! PSI works to develop and promote legislation and voluntary initiatives whereby manufacturers are responsible for recycling or safely disposing of their products once consumers are done with them.  We're looking forward to sharing what we know about mattress stewardship and learning what they know about the greater universe of extended producer responsibility strategies.
Reuse Conex Conference – October 2018 (10/5/2018)
On October 18-20, 2018, professionals in waste management, environmental professionals, city officials and more will gather at the ReuseConex Conference in Cincinnati, OH.  ReuseConex is the signature event of Reuse International, a nonprofit organization dedicated to increasing awareness of reuse – a central tenant of sustainability – through educational events, training services and research projects.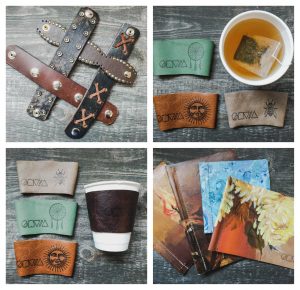 Two of our own, Terry McDonald and Susan Palmer will be among the speakers at the conference.  Terry will be speaking on Friday, the 19th about Textile Diversion: A Counterpoint to Fast Fashion. He'll be part of a panel of speakers.  Susan is speaking during the lunch on Thursday about Using Strategic Partnerships to Increase Reuse.
Along with Susan and Terry representing Cascade Alliance and St. Vincent de Paul Society of Lane Co., some products from our in-house design brand, ENVIA, will be featured.  To the left are some of the latest items that were created that will be showcased at the conference.
Cascade Alliance grows! (9.17.18)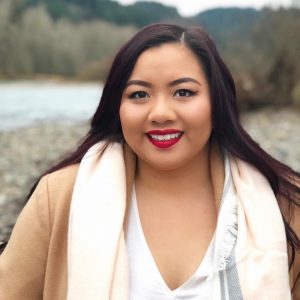 Welcome our Newest Team Member!
We are pleased to introduce our newest team member, Communications Coordinator Kylie Nelson. We are excited to have her on board, and know that her marketing background will help us do a better job of telling all the great Cascade Alliance stories being generated in this intrepid but far-flung network.
California Resource Recovery Association Conference (7.29.18)

We were pleased to present during the Recycling Markets session. Susan Palmer, Terry McDonald, and Mitra Chester shared on Equipment and innovation to tackle mattresses, textiles, styrofoam and glass.
Now Hiring! (7.10.18)
We are looking for an enthusiastic team member to join our team! Click here to check out our social media/program assistant opening.
Recipient of the Recycler of the Year Innovation Award from the Association of Oregon Recyclers  (6.15.18)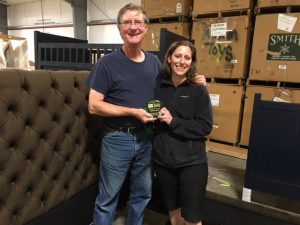 St. Vincent de Paul of Lane County was honored to receive the Recycler of the Year Innovation Award from the Association of Oregon Recyclers. Executive Director Terry McDonald and mentoring leader Bethany Cartledge hold the award in one of our warehouses where we fix damaged materials for reuse and upcycling. Guess who was hired to make the award? Our very own Aurora Glass!

The New Nonprofit Economy (3.8.18)
Cascade Alliance has been featured by Next City and Non-Profit Quarterly! "There is great untapped potential to employ more people in these jobs as more communities and companies adopt zero-waste goals that will make more materials available for reuse, upcycling and recycling," Cascade Alliance Director Susan Palmer writes.
Strengthening Communities Through Investment (1.4.18)
A new collaborative fund, led by the  Neighborhood Funders Group has attracted some great foundations — Surdna, Ford, Open Society — in an effort to move more resources to equitable and sustainable community development. At St. Vinnie's and the Cascade Alliance, we are on  a similar trajectory, providing nonprofits the social enterprise tools they need to be strong in their communities.  And our Cascade Alliance members are now sharing their expertise across the network.
Scrap Thrift Opens! (12.20.17)
Great article by Indy Week featuring The Scrap Exchange's new thrift! We are proud to be partners with this innovative nonprofit.
"Scrap Thrift was the result of a recommendation from the Cascade Alliance, a group that helps nonprofits turn discarded items into income and jobs.
According to Diana Shark, the Scrap Exchange's marketing and special events coordinator, the center has more than doubled its sales since adding traditional thrift items to its main store two years ago."
Retail Thrift White Paper (11.27.17)
2017 Retail Thrift White Paper
"The retail thrift industry was a predictable bright economic spot during the Great Recession. But what started as a response to consumers' financial troubles in 2007, as the housing bubble burst, has continued well past the recovery of the economy."
 Op ED in the Register Guard Regarding Multistream Recycling by Terry McDonald (10.21.17)
Terry weighs in on the changing recycling streams, "Research by the Container Recycling Institute has concluded between 73 percent to 78 percent of single-stream collected recyclables actually make it to the secondary markets. The rest is landfilled. But there's an opportunity for smart people to come up with solutions."
Article in Governing by Neil Seldman of the Institute for Local Self-Reliance Featuring Our Work  (9.26.17)
"…the Eugene, Ore., chapter of St. Vincent De Paul has created 700 jobs in its region. Even during the recession that began in late 2007, the nonprofit hired 100 workers and raised wages" Municipal Waste and the Benefits of Re-Use
Nobel Peace Laureate Project "Inspirer of Peace" Award (8.19.17)
Congratulations to our St. Vincent de Paul executive director, Terry McDonald, who was bestowed the "Inspirer of Peace" award by the Nobel Peace Laureate Project earlier this month. He was recognized for his work to peacefully educate our community.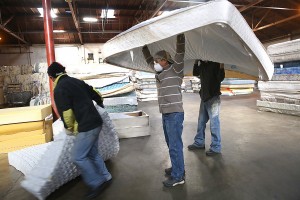 Cascade Alliance Media Coverage (7.14.17)
This week, several national recycling news outlets published stories highlighting Cascade Alliance's work in mattress recycling! Recycling Today, Waste Today Magazine and Recycling International are among those who wrote about the state of mattress recycling in the U.S. and the great work we are all doing!  Below is a running list of the stories. Feel free to take a look and share on social media.
For Immediate Release (7.11.17)    
Media Contact:
Erin Stutesman
Prichard Communications
503-517-2773
erin@prichardcommunications.com
MATTRESS RECYCLING CREATES JOBS, REDUCES WASTE AND SAVES MONEY
National industry review reports most promising opportunities
EUGENE, Oregon — States that have passed laws requiring better stewardship of mattress
recycling have created hundreds of new jobs, reduced landfill waste and saved millions of
dollars in disposal costs, reports a national review of mattress recycling. The report , authored by
Cascade Alliance , a national leader in mattress recycling, offers other states a roadmap to
achieve similar economic, environmental and community benefits that recycling and reuse
programs provide.
Since these policies took effect in 2015, the three states that passed these laws—California,
Connecticut and Rhode Island—have:
● created more than 200 jobs,
● recycled one million mattresses,
● saved roughly 11 million cubic feet of landfill space, and
● though early in the program, Connecticut's Department of Energy and Environmental
Protection reports that Connecticut has saved municipalities $1.5 million in disposal
costs since the law took effect in the state.
In California and Connecticut, Cascade Alliance mattress recycling facilities process units
collected by the Mattress Recycling Council's Bye Bye Mattress Program. Through Bye Bye
Mattress, MRC collects units from the public at various no-cost drop-off locations and assists
businesses and institutions with collecting and transporting mattresses to recyclers.
Cascade Alliance operates additional facilities in Massachusetts and Florida. These states do
not have a stewardship law, but many retailers and landfill operators value recycling enough to
pay for it.
Collectively, Cascade Alliance's facilities recycle nearly 90 percent of a mattress, which saves
23 cubic feet of landfill space per unit. This national network of nonprofits diverts waste to create
jobs for people who face barriers to work.
"It's clear that recycling and reuse programs are better for the economy and better for the
environment," says Cascade Alliance Executive Director Terry McDonald. "Cascade Alliance
members employ individuals who face barriers to finding employment, which leads to healthier,
more stable families and communities."
In response to the growing demand for more affordable and economically stimulating options,
eight other states are also considering mattress recycling options, and private mattress
manufacturers and retailers are initiating their own recycling programs.
Americans dispose of an estimated 20 million mattresses and box springs every year, and the
vast majority end up in landfills or incinerators. Bulky mattresses are problematic for landfills:
They take up a lot of space and create flammable air pockets, and the box springs get tangled
in bulldozers, often damaging them. Mattresses contain non-biodegradable synthetic foam and
fibers, plus flame retardant chemicals, which can leach into drinking water. That's why
municipalities and private waste haulers generally charge extra for disposing of a mattress.
Mattress owners have even illegally dumped mattresses to avoid this cost.
Disposing or incinerating mattresses limits job creation, too. The Institute for Local Self Reliance
reports that for every 10,000 tons of materials incinerated, one job is created. But for every
10,000 tons of materials processed for recycling and composting, five to 10 jobs are created.
For mattresses specifically, the Cascade Alliance reports that the job creation benefits are even
higher. For every 10,000 tons of mattresses diverted, 40 to 50 jobs are created.
Recycling Programs Drive Economic and Environmental Impact
With more demand from the mattress industry and a growing public interest in responsible
product stewardship, including those laws already in place in California, Connecticut and Rhode
Island, there is more urgency for cities and manufacturers to turn to reliable and affordable
recycling and reuse programs like Cascade Alliance.
Cascade Alliance's nine members across the U.S. turn materials into a stable revenue stream
and a source of secure, quality jobs. The result is financial stability for nonprofits, a cleaner,
more sustainable environment for all, and the opportunity for a healthier, more secure life for the
most vulnerable communities.
Since inception in 2013, Cascade Alliance members have collectively:
● Recycled nearly 240,000 mattresses and box springs
● Saved communities $481,465 in avoided trash bills
● Recovered 15 million pounds of materials from the waste stream
● Created 103 full-time, life-stabilizing jobs for people with barriers
● 15 Materials management businesses launched or strengthened
● Generated more than $10 million in revenue for member organizations
● Contributed to a reduction in greenhouse gases estimated at well over 14,000 tons
About Cascade Alliance
The Cascade Alliance is a national network of nine nonprofits diverting waste to create jobs for
people who face barriers to work. Network members turn discarded mattresses, books, clothing,
glass and other items into a stable revenue stream and source of secure, quality jobs. The
result is financial stability for nonprofits, a cleaner, more sustainable environment for all, and the
opportunity for a healthier, more secure life for the most vulnerable communities. Organizations
who join the Cascade Alliance demonstrate a commitment to helping create jobs that lead to
better health, typically through access to health insurance or other health services. The
Cascade Alliance is managed by the St. Vincent de Paul Society of Lane County and supported
by the Robert Wood Johnson Foundation.
SVdP_Mattress Recycling News Release—v3          
Mattress Recycling White Paper, 2017  Edition (6.29.17)
2017 Mattress Recycling White Paper
"Mattress recycling is a burgeoning industry. With interest from municipalities to reduce the problems of mattress disposal and extend the life of landfills, to the hospitality industry and retailers who seek a less expensive and more responsible way to dispose of used mattresses and the mattress industry itself that is motivated to get in front of the curve and shape the stewardship program, the availability of mattress recycling is poised to grow nationwide."
 Circular Economy Summit in Washington D.C. (6.28.17)
We had the opportunity to send Cascade Alliance Director, Susan Palmer, for a site visit with our partners in Wichita, Union Rescue Mission, as well as the USCCF Circular Economy summit. "It was inspiring to spend two days at the US Chamber of Commerce Foundation's Circular Economy summit in Washington D.C. I particularly enjoyed Tom Szaky of TerraCycle. Those guys are solving thorny recycling problems. Kind of like us!"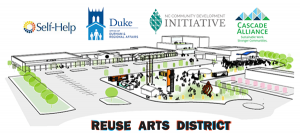 The Scrap Exchange poised to develop community Reuse Arts District (4.14.17)
Cascade Alliance member, The Scrap Exchange (Durham, NC), is planning for the development of a community Reuse Arts District – a destination with makerspace and shops, art studios, galleries and artist marketplaces, gardens, a sculpture park, architectural salvage operations, affordable housing, a shipping container mall, and more. As part of that process, we are helping The Scrap Exchange open an 18,000-sq.ft. retail thrift store to serve as an anchor tenant for the shopping center! Read about Executive Director Ann Woodward's vision here.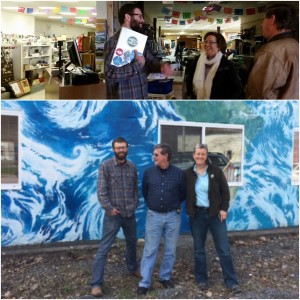 Cascade Alliance On the Road! (4.6.17)
Susan Palmer, Cascade Alliance director, and Terry McDonald, SVDP executive director, had the pleasure this past week to witness first hand the success of several Cascade Alliance members' social enterprises. Finger Lakes Reuse (pictured left), located in Ithaca, NY, is growing its reuse thrift stores – looking for more opportunities to help the planet and people.  Opportunity House, located in Reading, PA, has improved its thrift store displays and is enjoying growing sales. Greater Bridgeport Community Enterprises, located in Bridgeport, CT, just received funding to upgrade its mattress recycling equipment, so the enterprise can increase revenues. Our member groups inspire and motivate us!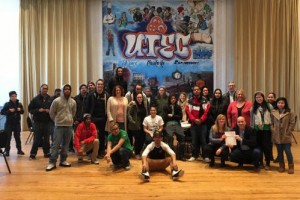 UTEC Mattress Recycling Awarded 3-Year Grant (4.4.17)
Kronos Inc. announced a three-year funding commitment to UTEC Mattress Recycling, the social enterprise where all UTEC young adults begin their work experience. "What UTEC does for these young adults – helping them find the confidence and a path to be successful – is nothing short of remarkable," said Barb Vlacich, V.P. of global sales operations at Kronos. Congratulations UTEC! (Read more: goo.gl/2gCs5b)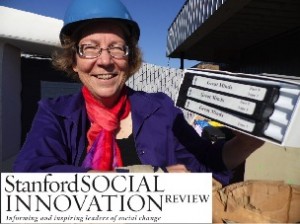 The Princess and the Pain Point by Cascade Alliance's Susan Palmer (Stanford Social Innovation Review, 3/17/17) 
"In the realm of materials management—transforming stuff that has no value in its current form or location to stuff that does have value—requires collaboration to get from problem to solution." Learn our four strategies for scale from a local mattress recycling effort that is going beyond waste reduction and expanding across the United States: The Princess and the Pain Point.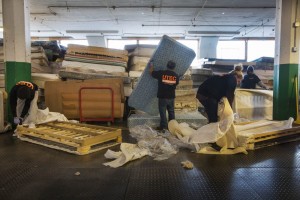 Shout out to Cascade Alliance member UTEC, Inc.!! (2.24.17)
National Public Radio affiliate in Boston, WBUR, profiled UTEC recently highlighting the organization's success in turning lives around with job training in mattress recycling and other social enterprises. "There's a lot on teamwork in here," says Jim Buccholz, UTEC's mattress warehouse operations manager. "We don't have one person grab a king size mattress and drag it around. You got to work together, so you rely on the person standing next to you a lot of the time." Call it a workplace lesson in peaceful coexistence! (Cascade Alliance helped UTEC establish the mattress recycling social enterprise in 2014 and we continue to assist the organization.)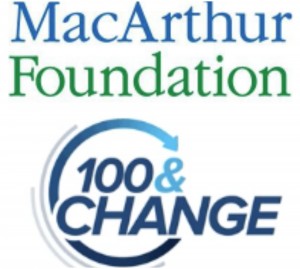 Kudos for SVDP! (2.15.17)
SVDP, Cascade Alliance's parent organization, was in the running for the MacArthur Foundation's "100&Change" grant. Though SVDP didn't win, the judges were impressed with our proposal for a global Cascade Alliance: The solution offered is innovative and sensible, and I very much like the vision of a global recycling network to manage 'stuff' that also provides employment to groups of workers who often have difficulty in the labor market.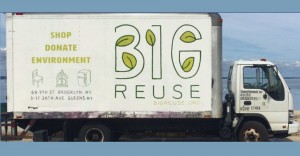 Welcome Big Reuse! (1.3.17)
Cascade Alliance is thrilled to announce its newest member, New York City-based Big Reuse. Construction and demolition waste accounts for 60% of all solid waste in NYC. By salvaging and marketing usable items from demolition and remodel projects, Big Reuse is creating jobs & eliminating waste.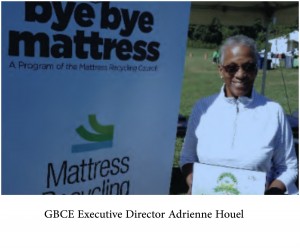 Connecticut's mattress recycling exceeds goals! (11.7.16) Thanks to Cascade Alliance member Greater Bridgeport Community Enterprises's hard work and diligence, Connecticut's mattress stewardship program finished its first year beating the forecast! State officials gushed. "This program has created jobs, recovered vast quantities of resources to be reused, saved municipalities $1.5 million in disposal costs and given residents an easy way to recycle a cumbersome item," said Robert Klee, commissioner of Connecticut's Department of Energy and Environmental Protection. Read more here.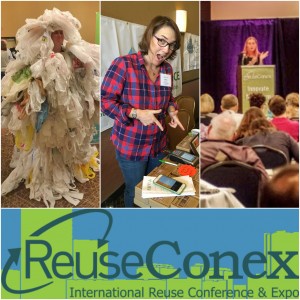 ReuseConex: Lots of learning! Lots of laughs! (10.17-19.16)
This year's biennual ReuseConex conference in Boston was a great event! We and other Cascade Alliance members shared our expertise in the reuse economy and learned from others who are doing amazing work promoting reuse. Terry McDonald, SVDP Executive Director, spoke about the success of Envia, SVDP's line of upcycling fashion products. We're looking forward to ReuseConex in 2018!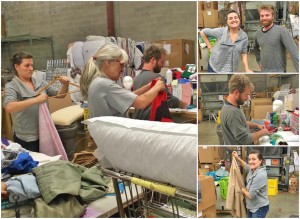 The Scrap Exchange visits Eugene! (9.21.16)
Jeff and Jessie, managers at Cascade Alliance member The Scrap Exchange, a creative reuse arts center in Durham, NC, received hands-on training in retail thrift from experts at St. Vinnie's in Eugene, Oregon. The Scrap Exchange is expanding from arts reuse into full-fledged retail thrift. Click here to learn more about Scrap's plans for the creation of a Reuse Arts District and the National Center for Creative Reuse.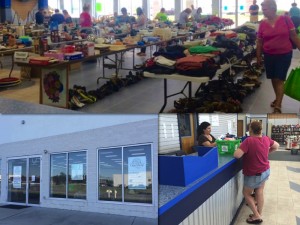 Summer Popups Boost Sales! (8.17.16)
Three Cascade Alliance members held popups this summer and made an additional $10,000 total to help fund their missions. Finger Lake Reuse, The Scrap Exchange and the Opportunity House (pictured left), with expert guidance from Cascade Alliance staff, took advantage of the warm summer days and surplus of donations to hold popup shop sales in their communities. Congratulations on taking the plunge!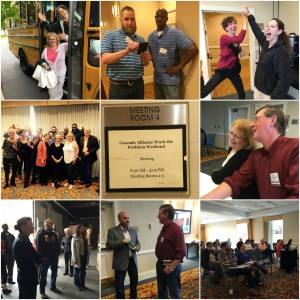 We came, We saw, We worked the problem! (5.5.16)
The Cascade Alliance gathered in Philadelphia for a weekend of sharing ideas, problem solving and fun! We kicked off our 3rd annual Work the Problem conference with a tour of member Opportunity House's remarkable social service center and retail thrift store, the OppShop. Over the next two days, we discussed ideas, lessons learned and best practices in reuse and recycling social enterprises. We heard from Madeline and Rebecca of the Scrap Exchange, Gregg of UTEC, Inc., Diane and Chris of Finger Lakes ReUse, and Leisha and Terry of St. Vincent de Paul Society of Lane County. The weekend was a great success and we all returned to our businesses with fresh ideas, new friends and renewed enthusiasm!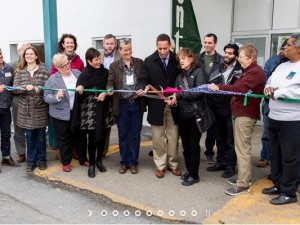 Congratulations! FLR Opens 2nd Reuse Store in Ithaca, NY (4.6.16)
We were so excited to attend the ribbon cutting for Finger Lakes ReUse's second reuse store in Ithaca, New York. Ithaca Mayor Svante Myrick was on hand for the ceremony to help celebrate FRL's success. FLR now has 26 employees and has diverted 1,500 tons of discarded materials– turning waste into opportunity! (Watch the ribbon cutting: short or long versions!)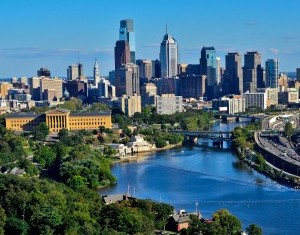 The Alliance heads to Philly to Work the Problem, May 5-8, 2016
Every year, Cascade Alliance members come together for a weekend of sharing ideas, solving problems, and having fun! After two years in Oregon, the 2016 Work the Problem conference will be held  in the city of Brotherly Love! We are excited to gather for what is shaping up to another great weekend working together to create jobs through waste-based social enterprises.  (To learn more about how your nonprofit can be a member, click here)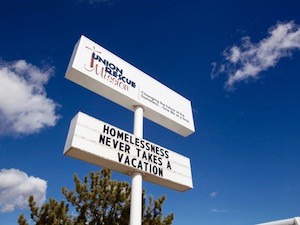 Union Rescue Mission Joins the Alliance! (2.29.16)
A big welcome to the Union Rescue Mission, our newest Cascade Alliance member in the Midwest! We are looking forward to working with URM to establish a social enterprise that provides quality jobs for people with barriers to employment, revenue for URM's mission and a second life for discarded materials.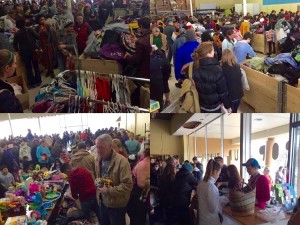 The Scrap Exchange PopUp Nets $12k! (2.7.16)
The Scrap Exchange, Durham, NC, held its second-ever popup February 6-7 and earned a record $12,578. Cascade Alliance staff was on hand to help with the fast paced sales. Looking forward to your next popup in May 2016!
What does mattress recycling look like? (1/13/16)
Take a peek! A reporter for The Sacramento Bee observed Cascade Alliance member DR3's mattress recycling operation in Woodland, California recently. Watch how we do it: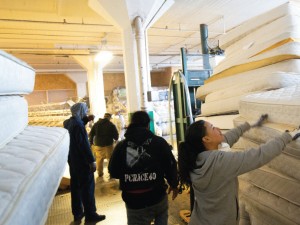 Mattress recycling gives youth a chance at a new life (1/12/16)
UTEC, a nonprofit in Lowell, MA, helps gang-involved and disconnected youth find a new path through job training at their mattress recycling facility.
We are so honored to be helping UTEC make this social enterprise a success. Read about it here: Breaking the Cycle, One Young Person at a Time (Youth Today)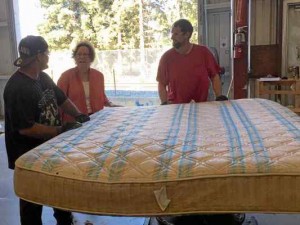 California Begins Mattress Recycling Program – DR3 is Ready! (12/30/15)
The phones are ringing off the hook at DR3 Recycling, a Cascade Alliance member, which was awarded two state contracts to provide recycling services under California's new mattress recycling law. The law went into effect on December 30, 2015 and DR3 has been fielding calls from consumers, businesses, and retailers wanting to recycle their mattresses that just a few days ago would have likely gone to the landfill. We are so happy to see the enthusiasm for DR3 and mattress recycling!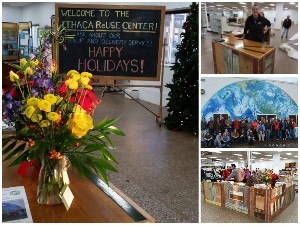 Finger Lakes ReUse Opens 2nd Store! (12/23/15)
Cascade Alliance member Finger Lakes ReUse has opened a new 17,000 square-foot store in Ithaca, NY. This is the nonprofit's second retail thrift. They opened their first store in 2008. The ReUse Center's mission is to extract value from local material resources and translate them into opportunities. Congratulations!!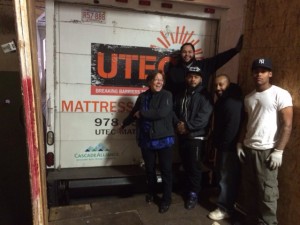 UTEC Mattress Recycling Embraces the Alliance! (12/10/15)
Cascade Alliance Director, Sue Palmer, recently visited our member UTEC (Lowell, MA). UTEC's mattress recycling program provides work opportunities for at risk youth seeking social and economic success. Great work, UTEC!
(Note: See the Cascade Alliance sticker on the truck?!!)
Mustard Seed of Central Florida on You Tube! (12/7/15)
A wonderful video showing what Cascade Alliance member The Mustard Seed of Central Florida furniture and clothing bank offers its community. And the great feeling they get in return. It feels good to do good!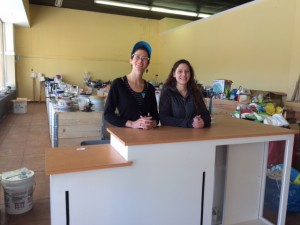 Inaugural Pop-up Shop a Huge Success! (11/14/15)
Cascade Alliance member, The Scrap Exchange, held its first pop-up shop over the weekend in Durham, NC. People were lined up 30 minutes before the opening and the sales were through the roof! Cascade Alliance staff was on hand to help set up the store and work the sale! From other people's discards, The Scrap Exchange made $10,000 to support its programs. That's a good day!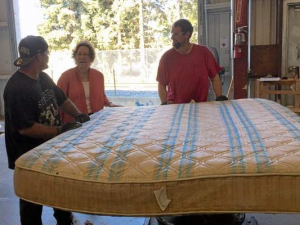 DR3 Mattress Recycling Prepares to Ramp up Production (10/6/15)
Cascade Alliance member DR3 operates two mattress recycling facilities in California. They are fired up and ready for the January 1, 2016 start of California's new mattress stewardship law that will divert in 400,000 mattress a year from landfills. Read more in Woodland, CA's Daily Democrat.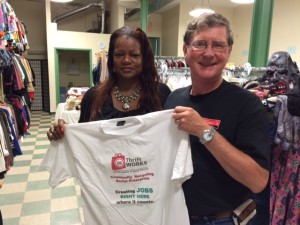 East Meets West! (9/30/15)
Cheryl Howard, Director of Social Enterprises for Cascade Alliance member Urban League of Essex County (Newark, NJ), and Terry McDonald, Executive Director of SVdP (Eugene, Oregon) meet in Urban League's ThriftWork's pop up shop in Newark!!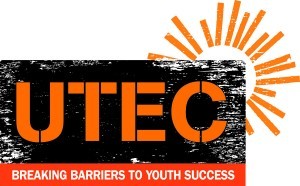 UTEC's New Name & Look! (9/1/15)
Cascade Alliance member UTEC has put new words behind its acronym, updated its logo and changed the tagline to better reflect their expanded mission. UTEC now stands for United To Empower Change and the new tag line reflects its core mission: Breaking Barriers to Youth Success. Read more about the changes in The Sun News.
Reason To Love Durham no. 27 . . . Scrap Exchange! (8/25/15)
Some love for Cascade Alliance member, the Scrap Exchange in Durham, NC.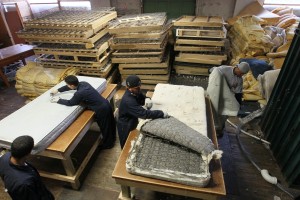 UTEC mattress recycling featured in Boston Globe! (8/17/15)
Shout out to Cascade Alliance member United Teen Equality Center (UTEC) in Lowell, MA. UTEC's mattress recycling operation was featured in a Boston Globe article on the state's efforts to recycle many of the estimated 600,000 mattresses that state residents trash every year.
"We think it's the right thing to do for the environment, while providing meaningful jobs to our young people," said Gregg Croteau, executive director of UTEC. Read more about the state of Massachusetts mattress recycling plans and how UTEC is playing an important role! Congrats UTEC!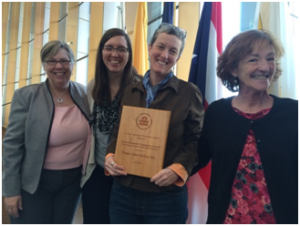 Finger Lakes ReUse Wins EPA's Highest Award!

Cascade Alliance member, Finger Lakes ReUse won EPA's 2015 Environmental Champion Award in recognition of its accomplishments in transforming waste into jobs and job skills training opportunities for the community. The Ithaca, NY-based nonprofit Finger Lakes ReUse is dedicated to helping communities benefit from reuse by reducing waste, relieving poverty, and teaching job skills. Congratulations!
OppShop opening a huge success!! (7/23/15)
Watch news coverage of the opening day of Cascade Alliance member the Opportunity House's first retail thrift store.  See how the OppShop is improving lives and providing employment for people with barriers in Reading, PA. We're so happy to be part of this journey with our friends at the Opportunity House!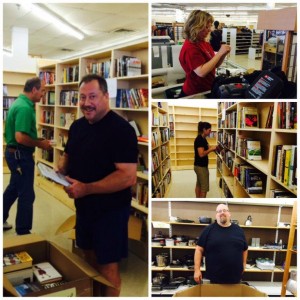 Many hands make light work!  (7/9/15)
The countdown has begun. . . In just 2 weeks, Cascade Alliance member Opportunity House will open the doors of its first retail thrift store–The OppShop! Retail thrift experts from SVdP are in Reading, PA to help them fill the shelves, train staff, and ensure a smooth opening.
Proceeds from the OppShop will enable The Opportunity House to assist more children, families and adults who face obstacles to independent living. Great work everyone!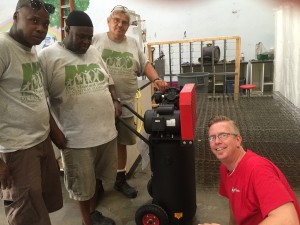 Mustard Seed (Orlando, FL) hosts SVdP (7/1/15)
Dave Tussing, SVdP special projects manager, spent time in Orlando, Florida this week helping Cascade Alliance member The Mustard Seed streamline their mattress recycling and retail thrift operations. In this picture, Dave and Mustard Seed mattress recyclers are admiring their new air compressor (provided by the Cascade Alliance), which they'll use to clean their equipment–resulting in fewer equipment breakdowns and more efficiency. We're glad to be helping such a worthy organization!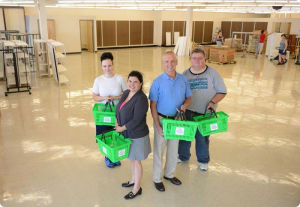 Excitement builds for new OppShop in Reading, PA (6/25/15)
The Opportunity House is a multiservice organization in Reading, PA benefiting children, families and adults who face obstacles to independent living. With assistance from the Cascade Alliance, they are poised to open the OppShop–their first retail thrift store–to bring in more revenue for their programs and help the community.  (Read more about the OppShop opening in the Reading Eagle.)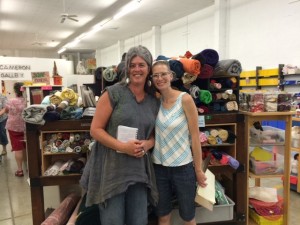 Scrap Exchange improves sales! (6/24/15)
The Scrap Exchange (Durham, NC) has increased its revenue after implementing retail lessons learned as a member of the Cascade Alliance. On a visit to The Scrap Exchange, Sue Palmer, Cascade Alliance director, snapped this picture of Ann Woodward, SE executive director, and Madeline James, SE store manager, standing in front of their new, more prominent display of fabric scraps that has boosted sales.  So happy to be helping The Scrap Exchange prosper!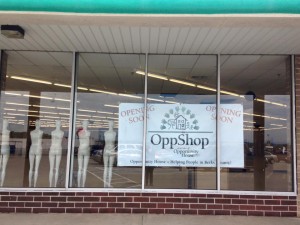 Opportunity House's OppShop coming soon! (6/16/15)
Cascade Alliance member Opportunity House is opening its first retail thrift store in Reading, PA this summer in the Penn Plaza Shopping Center. We are excited about this new venture for OppHouse and the Reading community!
Park City Green's mattress recycling featured! (5/26/15)
Cascade Alliance member Greater Bridgeport Community Enterprises was one of two businesses selected by the state of Connecticut to recycle mattress under the state's new mattress recycling law, which began on May 1, 2015. Their operation, called Park City Green, was featured on the local NPR affiliate!
Cascade Alliance 2nd Annual "Work the Problem Weekend"! (5/14-16/15)
Twenty people representing 10 Cascade Alliance member groups gathered in Eugene, OR last weekend to Work the Problem! With SVdP staff in attendance, members shared their stories of successes and challenges. The agenda included presentations by SVdP staff about commodities markets, opening a pop-up shop and worker safety, plus break out sessions, workshops and behind-the-scene tours of SVdP operations! We all worked together to learn from each other and grow our waste-based businesses to protect the environment fund our social service programs! For more information about becoming a Cascade Alliance member, click here.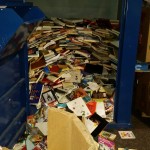 Why we're here: Three cheers for collaboration! (5/12/15)
Problem: The Up Center in Norfolk, VA had excess books and book collection bins, while the Opportunity House in Reading, PA needed books and a way to collect them.
Solution: Through the Cascade Alliance, each organization became aware of the other's needs and stepped up to help! Just this week, the Opportunity House received from The Up Center 5 large book donation bins filled with books to be placed around Reading (once emptied, of course!).
End Result: Success!
Robert Wood Johnson Foundation releases Cascade Alliance accomplishments report (4/30/15)
The Robert Wood Johnson Foundation just released "Waste-Based Social Enterprise Supports Job Training, Jobs, and Services" describing the key results and lessons learned midway through their funding of the Cascade Alliance. Congratulations team!
"The long-term vision is that people want to be part of the Cascade Alliance because it gives them a competitive advantage in the real marketplace to attack social problems in their community."—SVDP Terry McDonald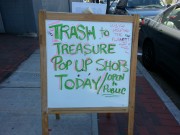 New Pop-up Shop a great success in Bridgeport, CT! (4/29/15)
Cascade Alliance member, Greater Bridgeport Community Enterprises, opened its first one day pop-up shop selling used books and crafts made by local artisans. Congratulations GBCE! Watch out for their next pop-up shop on May 23rd.
Coming Soon… DR3 Mattress Recycling in Northern California
We would like to thank REDF for collaborating with SVdP and the Robert Wood Johnson Foundation in starting a mattress recycling facility in Northern California to create jobs. REDF is a California nonprofit that creates jobs and employment opportunities for people facing the greatest barriers to work.
Cascade Alliance Conference in Eugene, Oregon (5/2015)
We are holding our next conference for Cascade Alliance members May 14-16, 2015. Stay tuned for registration info. If you would like to learn more about becoming a member go here.
Book and Media Sales Report (4/2015)
Just in . . . Cascade Alliance members have submitted their monthly books sales reports for May 2014 – March 2015.  Keep up the good work everyone! (See members section for details.)
Cascade Alliance at Santa Fe Art Festival (12/5-7/14)
Cascade Alliance and St Vincent de Paul of Lane County attended the Santa Fe Art Festival Dec 5-7. It was an opportunity to connect the Southwest with Cascade Alliance Upcycling and recycling projects. The show was a hit and we sold 313 items! For every upcycled product we sell, we are keeping materials out of the landfill, creating revenue for our social programs and creating real jobs!
Cascade Alliance at ReuseConex Conference in Austin (10/23-25/14)
Cascade Alliance and St Vincent de Paul of Lane County (SVdP) attended the 2014 ReuseConex Conference in Austin Texas Oct 23-25.  SVdP's Executive Director Terry McDonald was a distinguished speaker at the conference, and we distributed information regarding waste based business and displayed examples of upcycled fashion products created from recycled materials.
Cascade Alliance "Work the Problem Weekend" (9/18-20/14)
Cascade Alliance held our first annual conference Sep 18-20 in Eugene, Oregon. Attendees included nonprofits from across the country. The agenda included distinguished speakers, break out sessions, workshops and tours highlighting local business. If you're interested in joining the Alliance, please fill out a brief questionnaire.
Mattress Recycling Council Releases Educational Videos
The Mattress Recycling Council, formed by International Sleep Products Association has released an educational video prmoting mattresses recycling for retailers in Conecticutt, California and Rhode Island. You can find Bed Times article HERE, and links to the videos HERE.
Robert Wood Johnson Foundation featured in Chronicle of Philanthropy
Philanthropy.com recently featured an interview with Risa Lavizzo-Mourey to discuss how the Robert Wood Johnson Foundation is adjusting to shifts in U.S. public health issues. You can read the interview HERE.