Steps to Becoming a Member of the Cascade Alliance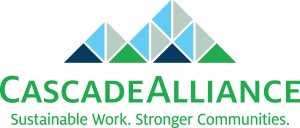 Steps to Becoming a Member of the Cascade Alliance
Step 1: Tell us about your organization.
Fill out the new member questionnaire!
Step 2: Let's talk. 
After we review your questionnaire, we'll schedule a conference call with you to discuss the nature of waste-based businesses and assign some basic research tasks.
Step 3: We'll visit.
We come visit your operation to help you determine what business will best suit you.
Step 4: You'll visit. 
We bring you out to visit our facilities in Eugene, Oregon, to gain a greater depth of knowledge concerning waste-based businesses.
Step 5: Project feasibility.
We help you design an achievable business plan with the goal of creating sustainable jobs for people with barriers.
Step 6: Make it formal.
We memorialize our partnership in a signed one-year memorandum of understanding.
Step 7: You're one of us!
We begin work offering you consulting services, technical assistance, more visits and some funding to help your waste-business succeed.