One Good Thing: Visits with Cascade Alliance Members Part 2
One Good Thing: Collaboration Between Members
This week's One Good Thing is featuring the Scrap Exchange in Durham, NC.  Our director, Susan Palmer is currently visiting them along with Chris Pletcher, the Deputy Director from Finger Lakes Reuse.  We're highlighting this collaboration because it's great to see our other members teaching one another through the network Cascade Alliance created.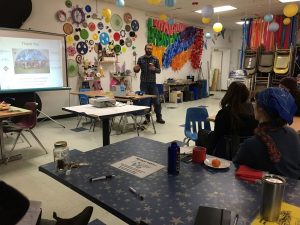 We hope to continue the collaboration enabling our members to learn from each other, lead workshops and share data.
Chris is pictured presenting to the Scrap staff.  He will help the store develop a product square footage map.  This will be beneficial to maximizing their space with the products that come through.  The Scrap staff had a chance to ask questions and learn and was a great experience for them.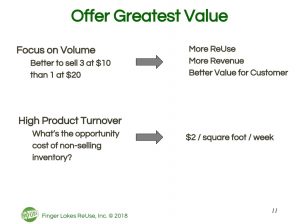 The included screenshot is of the presentation.  This slide was particularly interesting.  It lists the opportunity cost of merchandise that's just sitting around.  This information is important to stores so they can learn how much money they might be losing by not keeping shelves stocked.  The slide also highlights how it's better to focus on volume rather than cost.  It's better to sell more of an item at a lower price than one item at a high price that may not even sell as well.
Chris will also have the opportunity to stay a few extra days to learn more about creative reuse from the Scrap Exchange.