Cascade Alliance Pivots During Global Health Crisis: 2020 In Review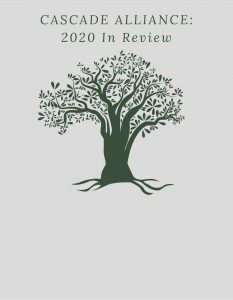 Our partner organizations certainly faced unique challenges in the face of 2020's global health crisis, but pivoted to meet increased need by performing incredible acts of service for their communities. From experimenting with curbside pickup, online sales, to partnerships with other nonprofits to keep staff employed during the crisis, our members demonstrated how nimbly they are able to innovate and thrive despite obstacles. The Cascade Alliance team truly couldn't be more proud of our partners, and look forward to seeing what goals we can accomplish in 2021!
Big Reuse
Big Reuse in New York City is currently campaigning to protect the Queensbridge Compost Processing Site. Due to pandemic-related budget cuts, regular curbside compost pick up was suspended, and the New York City Parks department is currently looking to replace this sustainable resource with a new parking lot. Due to an outpour of public support, the Parks department has extended the project's lease until June 31st, 2021. They are engaging in a #SaveOurCompost letter writing campaign to the offices of Mayor Bill DeBlasio and Parks Commissioner Mitchell Silver.
Clever Octopus
Clever Octopus in Salt Lake City moved to a larger location at the beginning of 2020, allowing them provide new resources such as classrooms, community gathering spaces, and a retail shop to members of their community. Since the organization was started in 2016, Clever Octopus has diverted more than 100,000 pounds of creative materials from entering landfills. In collaboration with local educators, libraries, & community centers, they have hosted more than 3,000 creative programs with over 40,000 participants. They are now located at 2250 SW Temple Street and are open for in-person shopping with COVID-19 guidelines in place.
Finger Lakes ReUse
Finger Lakes ReUse in Ithaca, New York opened a new retail space called the "ReUse Caboose" in November 2020. This space is open 7 days a week from 10am to 6pm and sells lightly used clothing, shoes, accessories, housewares, lighting, books, furniture and building materials at low prices. Proceeds from the ReUse Caboose will go to support Finger Lakes ReUse's essential waste diversion efforts, job training and community programs.
Furniture Bank of Atlanta Metro
The Furniture Bank of Atlanta Metro recycles gently-used furniture from the community before giving it to individuals and families transitioning out of homelessness and fleeing domestic violence, in addition to countless others simply struggling to make ends meet. This organization strives to provide beds for sleeping, tables for sharing meals, and couches for relaxing. In 2020, their virtual "Race for Rest" helped them raise money to continue doing this work despite difficulties related to the pandemic.
Global Neighborhood
Midway through last June, the Global Neighborhood Thrift Store in Spokane, Washington reached a major milestone in their goal of providing pathways to refugees. Half a million dollars worth of paychecks have been distributed to 40 refugee or asylee employees over the past nine years! Their job training program has also provided assistance to over 100 individuals, many of whom have since completed their path to American citizenship. Their store is currently open at 919 E Trent with COVID-19 safety protocols in place.
Houston Furniture Bank
This past December, the Houston Furniture Bank hosted its' second annual "No Kids on the Floor" Bedding Drive in celebration of the holiday season. Local furniture retailers, interior designers, and members of the community donated enough materials to provide 400 children with a comfortable place to sleep, making this year's drive a huge success. Over the course of 2020, this program was able to serve 1,000 children & their families in the greater Houston area.
Indigo Hippo
The Indigo Hippo in Cincinnati has been hosting fundraisers to support recreation & arts programs for underserved children in their community. Thanks to generous support from their constituents, Indigo Hippo was able to donate 50 pounds of bulk creative materials to Camp Joy, an organization that provides kids of all backgrounds with low-cost summer camp programs. They were also able to donate creativity kits to campers at Girls Rock Cincinnati, who provide inclusive music & creative arts programs to girls & gender-variant kids aged 12 to 18. To learn more, check out Indigo Hippo on Instagram at @indigohippo.
Klamath Works
In the name of social distancing, Klamath Works here in the state of Oregon has been hosting virtual life skills workshops via social media. Though their office is temporarily closed, they still serve the community of Klamath Falls by connecting people seeking employment to virtual resources and events for skill building. Anyone interested in these workshops can access their online module for life skills on the Klamath Works Facebook page.
The Mustard Seed of Central Florida
The Mustard Seed of Central Florida has been hosting virtual auctions throughout the year to support their mission of rebuilding lives for people who have experienced disaster, tragedy, or loss. They've auctioned off some exciting prizes such as a cabin stay in Colorado, a three-night stay at the Westgate Resorts, a hot air balloon adventure, an overnight stay at the Alfond Inn, and a day at Walt Disney World. Their most recent online auction was centered around nine all-inclusive vacations to places like Alaska, Italy, Costa Rica, Argentina, Ireland, Peru, Iceland, & Key West.
Opportunity House
The Opportunity House in Reading, Pennsylvania was awarded a $26,200 grant by the Berks County Community Foundation in August of 2020 to transform an old unused loading dock into a new food pantry. The pantry now provides fresh produce, protein, dairy, and remade meals to both current & former members of the local houseless community. In the interest of social distancing, the Opportunity House's "Opp Shop" now has an Amazon & Ebay presence for ease of purchase.
St. Vincent de Paul of Dayton, OH
St. Vincent de Paul in Dayton, Ohio has spent 2020 helping families impacted by the pandemic economy settle into stable living situations & permanent employment. Timothy, who lost his job due to the pandemic, was able to flee an abusive living situation with his three young children & settle into a three bedroom home with the help of his case workers from St. Vincent de Paul. They're currently helping Timothy obtain an ID & social security card as well as submit job applications. "I truly believe without St. Vincent we'd still be homeless. I owe everything to them."  With a smile, Timothy added, "We got our house."
The Scrap Exchange
In the early stretch of quarantine, the Scrap Exchange in Durham, North Carolina provided furloughed employees with the opportunity to make money by sewing reusable face masks for frontline workers & vulnerable members of the Durham community. At the end of the year, they expanded their online resources by offering virtual classes in the creative arts, providing expert guidance on fun skills like greeting card making & textile design.
Tap Into Hope
Virginia's Tap Into Hope launched an initiative in 2020 to provide mental health support to new parents during the Pandemic. Under the guidance of TAP's behavioral health coordinator and licensed social worker Monique Worrell, a virtual support group is now available to parents in the Head Start & Early Head Start program. Their workshops primarily focus on mental health and wellness topics in addition to pandemic-specific needs like "How to Deal with Your Child's Behavior" and "Emotional Support for Virtual Learning."
UTEC, Inc.
Organizers at UTEC, Inc. in Lowell, Massachusetts have spent part of their time advocating for the expansion of a state law that would allow young people with a criminal record to legally expunge up to two offenses on a provisional basis. They aim to serve people like Manoushka Gaston, who completed her nursing assistant certification training but cannot find a job due to misdemeanors she received before the age of 21. Today, Gaston's main goal is to provide a good life for her children & have a career that she can be proud of. By advocating for the right to expunge misdemeanor charges in the state of Massachusetts, UTEC Inc. is making moves to help people like Manoushka have a second chance at finding fulfillment.
Union Rescue Mission
The Union Rescue Mission in Wichita, Kansas collaborated with the Wichita Police Department to deliver over 100 full holiday meals to young families during Thanksgiving 2020. Though the Union Rescue Mission does this work every year, the economic fallout from the COVID-19 pandemic led to a dramatic increase in requests for turkey boxes last year.