Changes in Fast Fashion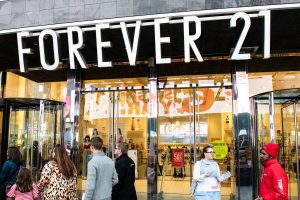 The popular fashion chain filed for chapter 11 bankruptcy on Sunday.  Shopping trends amongst teens and young adults has shifted in the past year, with an increase turning away from brick and mortar stores, and opting for online sites or second hand thrift stores.
Environmentally friendly brands are of higher interest to young people which reflects the increase of that generation becoming more involved and interested in issues that affect the earth. Younger consumers are now looking into other online webstores that provide fashion basics that are kind to the environment.  This has forced many traditional retailers to create products made from recycled materials, or to improve their manufacturing process.The rise in popularity for second hand through online sites such as ThredUP, Poshmark, Depop, TheRealReal, and a few others is steadily growing.  The secondhand fashion business is predicted to reach $64 billion by 2028.  This is almost 1.5 times the size of fast fashion.
Forever21 and other fast-fashion brands such as Zara and H&M took off in popularity during the late 90s and early 2000's.  Their popularity continued growing during the Great Recession when shoppers were looking for bargains.  The chain made a move to expand rapidly right at the point when shoppers were moving more towards online sites.
Although the fast fashion giant will continue to operate its e-commerce business, the consumer world is changing and unfortunately Forever 21 didn't change with it.