Groundbreaking Nomination for Interior Secretary: Debra Haaland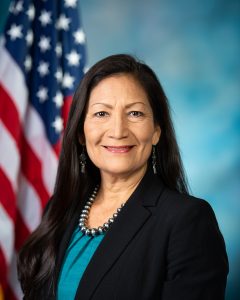 With the nomination of New Mexico representative Deb Haaland for the Department of the Interior, the Biden administration appears to be honoring its commitment to recruiting a diverse array of professionals to the presidential cabinet. Haaland has served as New Mexico's state representative since 2019, but her qualifications for this position extend far past her recent work for the federal government.
New Mexico representative Deb Haaland's nomination follows a long track record of advocacy for sustainable policy changes. Before being elected to Congress, she stood with the North Dakota Standing Rock Sioux in protest against the Dakota Access pipeline. In collaboration with other US Representatives, Haaland worked on the Thirty by Thirty Resolution to Save Nature, a program that wants to see at least 30 percent of America's coastal waters and land federally conserved by the year 2030. During her time in Congress, Haaland served as Chair of the Subcommittee on National Parks, Forests and Public Lands and was an active member within the Subcommittee on Indigenous Peoples of the United States.
Deb Haaland's confirmation would allow her to make history as the first Native American woman to hold a position on the president's cabinet. Haaland is a member of the Laguna Pueblo nation who is intimately familiar with the needs of the United States' native communities. As Secretary of the Interior, her responsibilities would include management of the federal government's relationship with 574 recognized tribes, comprised of roughly 1.9 million people. These responsibilities include oversight of all tribal affairs and the administration of mineral rights on tribal lands. Her nomination drew some skepticism from delegates who represent the interests of the fossil fuel industry, but has been overwhelmingly supported & championed by Native American activists across the country.
The Cascade Alliance and the organizations that we represent are dedicated to protecting our environment while supporting organizations that provide pathways to employment & economic stability. Given her commitment to furthering American conservation & social equity, we are excited about the nomination of New Mexico State Representative Deb Haaland!