Long-Term Effects of Natural Disasters: Dayton, OH and Oakridge, OR Crisis Recovery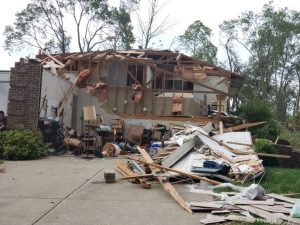 Following last week's discussion of data indicating natural disasters disproportionately harm vulnerable populations, we are exploring their long-term implications in our communities.
The Dayton Business Journal reports recovery from tornadoes that wreaked havoc through the Miami Valley will take up to a decade. The time-frame is jarring: two and a half hours of disaster leading to ten years of recovery for the Dayton, OH, region. Disaster response has pulled from public and private resources including nonprofits, schools, businesses, community foundations, utilities, and local, state and federal government. Our partner St. Vincent de Paul of Dayton, OH, is one of six main nonprofits who are working together to provide relief. From this collective, response has been structured into recovery efforts for individuals and the community at large. Individual recovery is case managed, and has prioritized meeting basic needs and home repairs before the onset of colder weather. A relief fund and materials donations from the community have been funneled toward relief efforts.
As communicated to the Dayton Business Journal, coordinating between community stakeholders will inform later disaster-response planning efforts: "many of the officials involved in the disaster recovery have said the learning experience from this tear of urban tornadoes will help guide future disaster and resource planning."
Dayton's recovery efforts have influenced the Cascade Alliance network as well. Through our visits to the area during relief efforts, we have garnered lessons we can apply to our respective regions. Our member Finger Lakes ReUse, located in Ithaca, NY, deployed two staff members to the Dayton, OH St. Vincent de Paul thrift store. While support was focused retail thrift support, our New York partners felt they were gleaning crucial experience related to emergency response by observing Dayton's goods-distribution process to tornado victims. Reflecting on the experience, Finger Lakes store manager Jessica Orkin felt "Everything I learned or was able to grasp at Dayton SVdP about disaster relief, even if it was a peripheral understanding, will be extremely valuable in these times of global climate crisis where natural disaster hit harder and more often causing great upheaval in all communities. We will need this shared knowledge moving forward."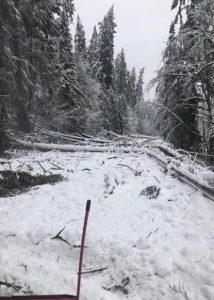 We have experienced being ill-prepared for unusual climate conditions in our surrounding area. Last February, excessive snowfall cut off power, led to highway closures, and ultimately isolated outlying rural town Oakridge, OR, for days. There was no immediate pathway for assistance to many residents who were without heat and access to food amid low temperatures. Local and state government responded to the crisis, as did local nonprofits. However, lack of preparedness for a disaster of this type created delays. Oregon Department of Transportation eventually opened a route to escort utility crews to deliver fuel and make power repairs, yet many residents all over Lane County remained without power for weeks. Scrambling to meet the needs of Oakridge residents during a weather-related crisis we were unaccustomed to was difficult. Community resiliency is so important and should be a part of our national discussion.