New Inroads in Sustainable Transportation: Electric Powered-Airplanes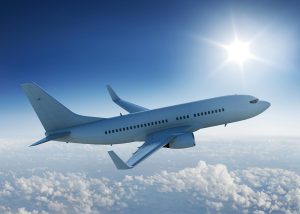 The effects of environmentally-conscious consumers are extending into every industry, including air travel. As large contributors to pollution and the earth's carbon footprint, both government regulations and consumer pressure have resulted in ongoing reforms in the automotive industry. While airplanes have largely escaped regulatory oversight in comparison, this is changing. Due to pressure to reduce environmental impact, and foresight that regulatory mechanisms may be fast approaching, some airlines and plane manufactures are exploring technological innovations to reduce their carbon footprint.
According to a recent article in Bloomberg Businessweek, some are delving into developing electric or hybrid planes. For example, a small hybrid model developed by the company Ampaire Inc. could be in commission by 2021. Company projections indicate conversion to a hybrid motor will cut emissions by 50 percent. At the moment, size is a large design obstacle for electric-motor powered planes. The New York Times reports 190 countries plan to reduce air travel's environmental impact through efficiency improvements and carbon offsets.
In the meantime, many activists have vowed to reduce or halt airplane travel, citing aviation's detrimental contributions to climate change; eleven percent of transportation emissions are attributed to the aviation industry.
To learn more, check out these source articles:
https://www.bloomberg.com/news/articles/2019-06-21/why-electric-powered-airplanes-are-headed-for-takeoff-quicktake?utm_content=business&cmpid=socialflow-twitter-business&utm_medium=social&utm_source=twitter&utm_campaign=socialflow-organic
https://www.vox.com/the-highlight/2019/7/25/8881364/greta-thunberg-climate-change-flying-airline
https://www.nytimes.com/2017/07/27/climate/airplane-pollution-global-warming.html