One Good Thing: Global Neighborhood Receives Well-Deserved Recognition in Local Paper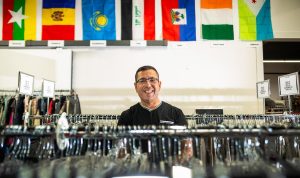 Our members at Global Neighborhood in Spokane, WA, have worked so hard to move their thrift store in a new location.  Back in March they started the transition and had a highly successful grand opening on April 13.  Now it's great to see their work highlighted in the local newspaper! They received excellent front-page coverage in the print edition. Online included a colorful slide show.
Moving was no easy task.  Global Neighborhood gained something like triple the square footage, which required collecting and organizing sufficient merchandise to fill the larger space. We're excited to see that they implemented some of our layout suggestions, while also maintaining their own unique character.
Global Neighborhood provides a job readiness program to newly immigrated refugees.  This program consists of English lessons in the workplace and English as a Second Language classes through the local community college.  Participants also work in their thrift store as a way to gain job experience which is useful for when they graduate the program.  Global Neighborhood Thrift was launched in 2011 and last year, more than 49 former refugees were employed there.
*Image above taken by Libby Kamrowski for the Spokesman Review