One Good Thing: The Link Between Housing and Wellbeing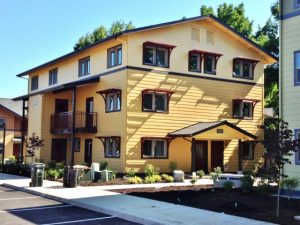 The 2019 annual message from the Robert Wood Johnson Foundation takes a closer look at an area of profound concern to the St. Vincent de Paul Society of Lane County: the link between housing and well-being.
The foundation's report includes both compelling data and stories regarding housing and health equity.
At St. Vincent de Paul, we've been acutely aware of this link as we strive to help people in our community share in the American dream. We stabilize people in crisis with a suite of homeless shelters, transitional housing and emergency services. We create jobs for those with barriers to employment.
And we create affordable housing in our region. Every year we add to our housing stock to ensure there is a place to live for people on low and fixed incomes. We currently offer 1,500 units: apartments, townhomes, mobile homes, duplexes and single family homes. But as housing costs continue to increase in our region, we know we have to do more.
We appreciate the Robert Wood Johnson Foundation for shining a light on this important topic.
*Photo above is of one of our completed housing projects.