Perspectives on the Stockton Universal Basic Income Study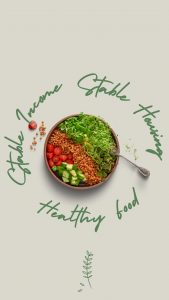 For communities to thrive, it's vital everyone has the economic security necessary to access nutritious food and safe, stable housing. Financial security has far reaching impacts beyond these indicators– such as positive health and education outcomes. That's why we're so interested in a new study that illustrates the power of universal basic income to ensure all community members can survive and flourish.
Starting February of 2019, the city of Stockton, California began participating in a radical experiment designed to test the outcomes of universal basic income programs in low-income communities. With the support of a $1 million grant from the Economic Security Project, the city's government granted a monthly allowance of $500 to 125 people living below the poverty line. Researchers from the University of Pennsylvania and the University of Tennessee were interested in understanding both the harm and benefit in giving a monthly stipend to people living on low incomes, meaning that this program established no restrictions on what participants could buy.
Contemporary opponents to welfare programs, economic relief checks, and other similar social programs argued that "unearned" benefits will encourage people to drop out of the labor force and become completely dependent on these programs. The local moderators of this program, known as the Stockton Economic Empowerment Demonstration or "SEED," found that their program produced results that indicate the opposite.
At the time when this study began, only 28% of the program participants reported having full-time employment. A year later, 40% of people in the same surveyed group reported having full-time employment. Twelve months of consistent monetary assistance appeared to reduce month-to-month income volatility, allowing the participating individuals to spend less time worrying about immediate struggles like housing or food and more time searching for full-time employment or entering vocational school.
Participants in the SEED program also reported statistically significant improvements in their emotional health. Prior to entering the program, one participant confirmed that they were finally able to function without the assistance of prescription medication for a severe anxiety disorder. Another participant reported experiencing lower rates of depressed mood related to her current financial position.
The researchers involved with this study made the point that "Living with constant financial strain creates forced vulnerability, dependence, and trust in people you may not want to engage with or in systems that invite unwanted surveillance into your household." As one participating mother said, "Poverty means lack of choice. You're forced in ways you don't want to be."
Major cities around the country have paid attention to the Stockton study, and many are now exploring the possibility of implementing their own universal basic income programs for low-income residents. A group of Mayors from around the country have organized and created a group called "Mayors for a Guaranteed Income" that advocates for the implementation of such programs on a national scale.
At Cascade Alliance, our interests lie in supporting organizations and programs that holistically improve the lives of people from all corners of the United States. Evidence from the first study of its kind indicate that UBI programs are associated with improvements in overall quality of life for community members experiencing poverty– we hope more solutions like this garner national attention!
Check out these articles for more information:
https://www.theatlantic.com/ideas/archive/2021/03/stocktons-basic-income-experiment-pays-off/618174/
https://www.optimistdaily.com/2021/03/ubi-success-updates-from-the-case-study-in-stockton-ca/
https://www.latimes.com/business/story/2021-03-06/stockton-study-universal-basic-income