Secondhand Holiday Shopping is on the Rise
Among our members in the retail thrift industry, trends in holiday shopping has been a conversation topic as of late. We often wonder if customers will be driven to traditional retail or online platforms for their holiday shopping. But fear not! According to an October 2019 survey released by Accenture, sustainability is impacting consumer attitudes toward holiday shopping this year. The mainstreaming of buying secondhand is carrying over into the holiday season, much to our delight. With so many great items to be found in the secondhand sector, go green this black Friday!
The survey found a number of trends favorable to retail thrift:
Forty-eight percent of survey participants are willing to give secondhand gifts, and more than half suggested they would be happy receiving secondhand gifts.
Twenty-four percent of all respondents, and thirty-four percent of millennials, plan to rent clothing for holiday parties.
Many shoppers prefer buying gifts in a physical store, because they appreciate getting inspiration for their purchases. As St. Vincent de Paul's former Retail Stores Manager Leisha Wallace likes to say, "Customers want us to do their shopping for them!"
Online buyers are tending to choose shipping options with less environmental impact, such as opting out of expedited delivery options that require the use of planes and individual packaging.
Forty-five percent of consumers are more likely to give their business to companies that incorporate social responsibility into business practices.
Of course, we've long leveraged the holiday season to increase sales. Here are a few tips to market your product as gifts, and increase foot traffic in your store:
Decorate, decorate, and decorate… use window displays and decorations to attract folks walking or driving by.
Regardless of product type, package what you sell as a present. Display it under a tree, place a bow on it, and make gift sets!
Use your best-condition, newest looking product for gift displays.
Highlight any social services you are providing that season. Whether verbally or through signage, remind customers their purchase will contribute to their community.
If you sell Christmas trees, they are much more likely to sell if you set them up. We have also put ornaments and lights on a portion of our Christmas tree inventory in order to sell them at a higher price point.
Along with our specialty Christmas displays, we typically feature an aisle with holiday decor and gift wrapping supplies.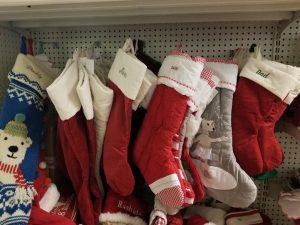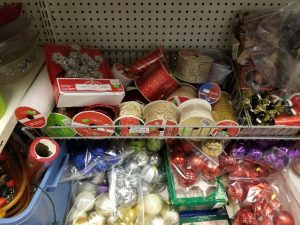 Finally, this December 3rd will mark Giving Tuesday, a "Global Generosity Movement". Find a nonprofit you want to partner with, to further our collective impact in our communities.