Technique Tuesday: Mattress Recycling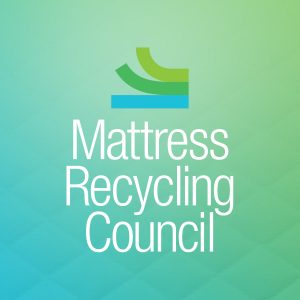 Do you ever think about what happens to your mattress when you buy a new one?  The delivery truck drops off a brand new plush mattress and hauls off your old one, never to be seen again.  How would you react if you knew around 20 million mattresses end up in landfills each year?  If you felt a slight twinge of guilt you might be interested to learn that there are mattress recycling stewardship laws and programs to keep mattresses out of the landfills.
Below is a brief history of mattress recycling – which many of our Cascade Alliance members partake in, and links to finding your nearest mattress recycling drop-off.
In 2000, St Vincent de Paul Society of Lane County planted the seed for the idea of a mattress recycling plant down in Oakland, CA – the first of its kind.  SVdP  later opened another recycling plant in Oregon in 2004, and then two more in California. We now mentor nonprofits, sharing best practices, equipment specs & experienced staff.
Currently, four states have mattress stewardship legislation: California, Connecticut, Oregon, and Rhode Island.  Each of these states have a law or act that requires mattress manufacturers to have some type of recycling program.  The main points of the Mattress Recycling Council program is to:
Increase the amount of mattresses recycled in each state.
Reduce the amount of illegally dumped mattresses in local communities.
Educate consumers and retailers about the program and why they might want to take part in it.
Reduce recycling costs for consumers and local governments
In case you're wondering what happens during the recycling process, here are some quick facts:
The springs in the mattress are actually quite valuable. Steel springs are melted and then remade into a variety of products
Foam in the mattress is reprocessed into padding that's laid under carpet.
Wood from the slats in box springs is eventually broken down into mulch.
Fiber, such as cotton or polyester, is processed and used in the creation of filters in industrial equipment (such as AC systems or large vacuums).
Recycling your old mattress has some other positive environmental impacts as well besides just keeping your mattress out of the dump.  By keeping mattresses out of the landfill, greenhouse gas emissions are reduced.  Metal springs in the mattress, cotton fibers and foam all contribute to greenhouse gas emissions by sitting in a landfill.  However, when mattresses are recycled, the chemicals that would have been leached into the landfill are now avoided, therefore, contributing to a greener planet and healthier community.