Technique Tuesday: Memorable video? How about viral!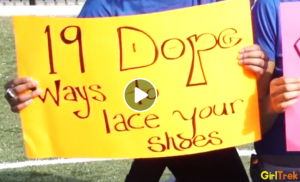 We saw this great viral video last week, and can't get it out of our heads: "19 dope ways to lace your shoes"
https://www.facebook.com/HealthyBlackWomenandGirls/videos/1445317785544821/
Best, it's a video produced for the benefit of an inspiring nonprofit GirlTreck. And it turns out the firm that developed the video has a toolkit to help nonprofits create their own viral videos. We downloaded it and are plotting our approach to viral videos. In a nutshell, here is the advice of founders Fritz and Stephen.
Rule One: Be True
Rule Two: Don't Waste My Time
Rule Three: Be unforgettable
Rule Four: Ultimately it's all about Humanity
Here's Stephen and Fritz doing a Ted Talk about their technique.
Viral on, friends, and be sure and share what you do with us!