The Power of Collaboration: Staff Highlight, Chris Pletcher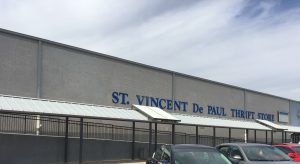 Our ongoing emergency response project in Dayton, Ohio is progressing well. With several Cascade Alliance members making return visits to the site, we were able to accomplish multi-leveled project goals on a faster timeline. Although an unfortunate reason to come together, the positive yield from the ongoing collaboration has been tremendous. After two months of hard work, we have increased store revenue, changed the warehouse layout and helped set up a POS. This week, we want to highlight contributions of Chris Pletcher, the Special Projects Manager at Finger Lake Reuse. Chris spent two weeks in Dayton, and was able to apply his expertise to reworking production and materials flow in the warehouse, and the setup of a new point of sale system.
Over the first week of his tenure on the project, Chris prioritized reworking the warehouse. This was essential to our goal to increase store sales while SVdP of Dayton dedicated time and resources to disaster relief such as fulfilling vouchers and delivering a household worth of items to those in need. Efficient materials flow is critical to production capacity, which is the bedrock of thrift store revenue generation. Even with staff working tirelessly to sort, price and stock incoming product, an inefficient processing system and warehouse flow will cause bottlenecks, hinder production and ultimately harm the bottom line. Increased production levels and positive changes in the store require appropriate warehouse and processing infrastructure. Reflecting on the process, Chris says: "My first week there I was able to help them shift around their warehouse and production space, simplifying the material flows.  I found the staff there, especially Krys, receptive to my suggestions.  After soliciting feedback from much of their staff, we had a new layout for their warehouse by my third day there.  And my fourth day there we made the changes."
During his second week in Dayton, Chris switched his focus to SVdP's transition to a new point of sale system, called Thriftworks. Having already implemented a POS system in his own organization, Chris was prepared to trouble-shoot with management and provide training to staff to better prepare them for the change. In Chris's view, the POS system went online smoothly due to a good working relationship between the two nonprofit's staff, remarking "I'm grateful for the trust they placed in me to take the lead on the project and get it done in a short timeline. I was able to speak with the developer of the system and suggest modifications to the program that would better serve St. Vincent de Paul Dayton.  I was able to create a new training manual for their cashiers and store management staff and then lead a training prior to leaving." Furthermore, knowledge-sharing shortened the training timeline, and improved the system itself. According to Chris, "While they certainly would have been able to implement the POS system without my help, it would have taken them longer, utilizing many more resources.  Additionally, they would not have benefited from the modifications I was able to communicate to the Thriftworks developer. Not only will St. Vincent de Paul Dayton benefit from the added features, these features will be available to all organizations who use Thriftworks."
From the perspective of Dayton St. Vincent de Paul staff, knowledge-sharing has been a vital benefit to their operations. After the first successful day using the POS system, Krys Davidson, Manager of Community Enterprises at SVdP of Dayton, emphasized the value of external support and collaboration between her staff and Chris. Thanking Chris for his support, Krys said "On the first day "live", I felt like we were 6 months into the program because we have benefited so very much from your expertise and experience.  It was certainly a pleasure having you here and I appreciate knowing that I have a "life-line" should I need it!"
Our shared goal to improve the environment and our communities compels us to work together. By sharing industry best practices we are able to accomplish more, faster. As the Cascade Alliance consists of sharing industry best practices to create a better future for all of us, collaboration is one of our core values.