The Register-Guard Highlights St. Vincent de Paul of Lane County's Business Model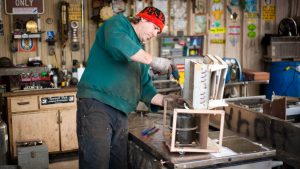 This recent article about St. Vincent de Paul of Lane County's (SVdP) business enterprises perfectly encapsulates why we are so passionate about sharing the SVdP model with other nonprofits. Last year alone, SVdP's waste-based enterprises diverted 44.1 million pounds from landfills. Revenue generated from the plethora of waste-businesses operated by the agency created jobs and generated revenue to support the diverse human service programming SVdP provides. The piece highlighted several social enterprises including:
Manufacturing dog beds from mattress materials
Converting cotton T-shirts and clothing to salable rags
ENVIAfashion, an upcycling fashion and accessories line
Appliance refurbishing and recycling
A glass foundry
Mattress recycling
Retail thrift stores
The result: a 50 million dollar annual budget where "only 4% of that budget comes from private monetary donations." SVdP's ethos that waste is a recourse delivers environmental and economic benefits to the community, and allows the agency to adapt to changing community needs with more flexibility.
We are proud to work in a network of nonprofits gleaning value from the waste stream. In the words of Terry McDonald, "What we do and accomplish is all about building partnerships."
To read the article, click here!