When the Little Details Matter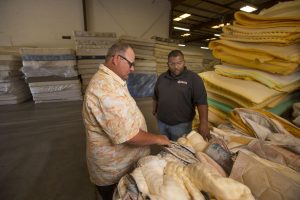 You would not think that eight staples tucked among 30,000 pounds of mattress foam would matter. But they do. It's like needles in a haystack in our mattress recycling facilities where our staff deconstruct 400 mattresses every day. They cut the quilted top and foam away from the springs, bale the foam into 800-lb bales for sale to manufacturers creating the padding that goes under carpets.
We love being part of the reuse-recycling circular economy. Keeping these mattresses out of landfills preserves space for actual garbage, and retains the materials in an old mattress that still have value and downstream uses.
But the hog rings and staples that hold the soft mattress parts in place can be hard to remove entirely. The problem: they cause damage to the equipment of the downstream manufacturers.
We learned this the hard way last year, when our buyer turned back a load of foam. Over eight staples. Any given mattress may contain hundreds.  Quality control of this product means the difference between getting paid for the foam and having to landfill it because no buyers will accept it.
So how do you consistently ship metal-free foam?
It's a never-ending training process, says our operations lead Curtis Bowser. Everybody needs to be continuously reminded. And the staffer working at the baler is the person who has to be most vigilant.
Today we're celebrating the fact that of the 400,000 mattresses that yielded up 1.2 million pounds of foam we processed last year, we only had 30,000 turned back to us. So far this year, no loads have been rejected.
*pictured above: Jason Prasad and Art Taylor examine a load of soft materials after they've been baled at our Woodland Calif., warehouse.